HIGHLAND PARK, Ill.- On Saturday, June 25th, President Joe Biden signed the Bipartisan Safer Communities Act into law.
While Democratic Senators, and the President himself, confessed that the bill did not accomplish everything they would have wanted, they, along with over a dozen Republican senators, shared their belief that their bill would save lives.
It was an illusion that lasted ten days.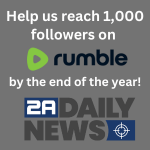 It was shattered by the trigger finger of alleged mass shooter Robert "Bobby" E. Crimo III, 22, of Highland Park, a suburb of Chicago located roughly 25 miles north of downtown.  According to ABC 7 Chicago, Crimo III opened fire from the rooftop of a business upon a crowd gathered for the suburb's Fourth of July parade. 
Dressed in women's clothing to conceal his identity, Crimo III ascended a fire escape ladder to the top of a building with an AR-15 assault rifle.  He fired at least 70 rounds into parade onlookers, killing seven and injuring dozens more.
A manhunt ensued, and hours later, law enforcement captured Crimo III in suburban Lake Forest.
Mainstream media accounts painted a chilling portrait of Crimo III.  ABC News described Crimo III as an amateur entertainer going by the stage name of Awake The Rapper, in his aspiration to be a Hip-Hop artist.
Crimo III's social media presence included what is described by the mainstream media as violent content.
"One music video posted on YouTube appears to depict the aftermath of a school shooting in which Crimo is filmed alone in a classroom dressed in a helmet and bulletproof vest," ABC News reported.  "A separate video shows Crimo sitting on a bed rapping while a newspaper featuring Lee Harvey Oswald hangs on the wall behind him. 
Another video allegedly posted by Crimo shows a cartoon depiction of a person aiming a long gun at other characters with their hands up and on the ground, and a character wearing a shirt with a logo used on Crimo's alleged social media accounts.  The video also shows a cartoon character being shot by police."
Despite being flagged as a "clear and present danger" by the Highland Park Police Department in 2019, stemming from an incident where he threatened to kill his family, Fox News reported that Crimo III cleared four firearm purchase background checks in 2020 and 2021.
CBS News Chicago reported that Crimo III obtained his Firearm Owners Identification Card, which enabled him to purchase firearms in Illinois in 2020, a mere four months after Highland Park police responded to the incident where he threatened his family.
Illinois is a state that anti-gun groups celebrate for its gun control laws. Gifford's Law Center gave Illinois an A- rating, while Everytown For Gun Safety ranks it sixth in the nation in gun control law strength.
On Wednesday, Crimo appeared before a Lake County Judge and was ordered to be held without bail.
Democrats Immediately Begin To Push For 'Assault Weapon' Ban
Almost immediately, Democratic lawmakers began pounding the drum for more gun-control laws, despite the Bipartisan Safer Communities Act less than two weeks ago, a bill that, according to Sen. Chris Murphy (D- Conn.), would save "thousands of lives."
In a Tuesday evening appearance on MSNBC's All In, Sen. Dick Durbin (D- Ill.) derided assault weapons while recounting his trip to Highland Park.
"They're fed up with it, and I am too," Durbin told Hayes. "It's about time we came to our senses. The idea that we can send and sell in this country military assault weapons capable of shredding the bodies of the victims is just senseless. It has nothing to do with the Constitution or the Second Amendment."
Democratic Illinois Governor J.B. Pritzker echoed Durbin's claim.
There are going to be people who say that today is not the day, that now is not the time, to talk about guns.  I'm telling you there is no better day and no better time than right here and right now," Pritzker said.  "It's the 4th of July – a day for reflection on our freedoms.  Our founders carried muskets, not assault weapons.  And I don't think a single one of them would have said you have a constitutional right to an assault weapon with a high capacity magazine — or that that is more important than the right of the people who attended this parade today to live."
In a Tuesday address to the National Education Association's 2022 Annual Meeting and Representative Assembly in Chicago, Vice President Kamala Harris called on Congress to renew the assault weapons ban that was a part of the 1994 Crime Bill.
"There is no reason that we have weapons of war on the streets of America," Harris shrieked at the audience. "We need reasonable gun safety laws!"
OUR TAKE
"There's nothing more dangerous than a man with nothing to do and no one to live for. This has been true in every place for all of time," tweeted conservative author and podcaster Allie Beth Stuckey.  "Our young men are drowning in idleness, purposelessness & godlessness, and we're paying for it."
There are no assault weapons ban, no increased red flag laws, no extended waiting periods, or no any of the long laundry list of gun control laws that would cure what ails those young men and the seemingly increasing number of young men like them.
But, as we have said before, public safety isn't the point.  The point for the Democratic Party and the RINOs that are always ready, willing, and able to help them out (and seemingly never get punished at the ballot box by GOP voters) is disarmament. 
It is likely that they will use tragic events like this shooting to expand the Bipartisan Safer Communities Act as a springboard to further infringe on your constitutional rights.
As we reported to you on June 24th Democratic senators hinted heavily that their new bill was a "beginning" that would "pave the way" for future progress.
Just as they did with Buffalo and Uvalde, the Democrats will use Highland Park as a reason to go on the offensive and push for more gun control.
Once again, the time has come to fight gun control legislation. Contact your legislators — twice if they're Republicans! — and them not to compromise any further on your Second Amendment rights.