WASHINGTON D.C.- In an expected move, House Democrats will be moving to act upon a bill to ban certain semi-automatic weapons next week, the Washington Times reported.
Rep. David Cicilline introduced the legislation, the Assault Weapons Ban of 2021 (D-R.I), which calls for banning the manufacturing and sale of over 200 different types of firearms. However, the Washington Times reported that it falls short of gun confiscation.
"The proposal would make it unlawful for a person to import, sell, manufacture, or transfer certain semi-automatic rifles, including those that can accept a detachable magazine and have at least one of the following military features: pistol grip; forward grip; folding, telescoping, or detachable stock; grenade launcher; barrel shroud; or threaded barrel," The Times reported.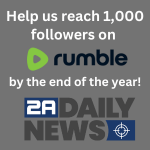 Speaker of the House Nancy Pelosi (D- Calif.) scheduled an emergency hearing in the House Judiciary Committee on Wednesday to mark up Cicilline's bill. Should the bill go through, it will mark the first vote on a proposed assault weapons ban in 30 years.
The move by congressional Democrats was not surprising. The drumbeat for another assault weapons ban began in earnest after Robert Crimo III's rampage at the Highland Park, Illinois 4th of July parade, which occurred less than two weeks after the passage of the Bipartisan Safer Communities Act into law.
The bill, which the Washington Times reported has 211 Democratic co-sponsors, is not expected to pass into law since Senate Republicans have indicated that they have no interest in taking up any further gun control legislation in a 50-50 senate.
OUR TAKE
Despite the prognostications of the Washington Times, gun owners know from experience that it only takes a couple of senators to flip to make the Assault Weapons Ban a reality.
The ease of that happening was recently shown as anti-gun former federal prosecutor Steve Dettelbach was approved to head the Bureau of Alcohol, Tobacco, Firearms, and Explosives in the Senate. When the nomination came to a vote, two Republican Senators (Rob Portman of Ohio and Susan Collins of Maine) crossed party lines to vote with their Democratic colleagues.
Senate Minority Leader Mitch McConnell (R- Ky.) made no secret that his support of the Bipartisan Safer Communities Act was an act of realpolitik designed to improve GOP standing among suburban voters. In recent days, McConnell expressed his desire for Republicans to make advancements in those suburbs by downplaying contentious issues such as gun restrictions and abortion rights in hopes of winning the suburban vote, NBC News reported.
McConnell was willing to take the support of gun owners for granted in the case of the Bipartisan Safer Communities Act betrayal. Do we believe he won't further compromise on gun control at the first sign of Democrats appearing to be gaining strength for the upcoming midterms?
Gun owners can't take that chance.  Contact your legislators — twice if they are Republicans! Tell them you will not tolerate any further compromise on your Second Amendment rights. You can use this form provided by the American Firearms Association below: