DALLAS, TX – A Dallas mother is being hailed as a hero for shooting a carjacker in the face while he was attempting to steal her car with her two children inside last week.
The incident occurred at around 10 p.m. Wednesday at a Shell gas station along Interstate 35 near Camp Wisdom Road in southern Dallas, according to Fox 4.
The suspect, 36-year-old Ricky Wright, jumped into the vehicle of Michelle Booker-Hicks while her 2-year-old and 4-year-old sons were inside.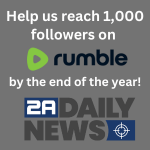 I proceeded to jump in my backseat and told the gentleman to stop, to get out the car. He would not get out of the car. He turned around and looked at me," Booker-Hicks told Fox 4. "I reached over the armrest to get my glove compartment and that's when I fired at him once I got the gun from my glove compartment.
Fox 4 reported that Booker-Hicks shot Wright in the face just below the right eye. He proceeded to crash the car, exit the vehicle, and collapse. Booker-Hicks and her children were not injured. She told Fox 4 she had purchased the gun just days earlier to defend herself. While she does not have a license to carry, Texas law allows people to carry guns inside their motor vehicles.
Police told Fox 4 that Booker-Hicks would not be charged.
As of last week, Wright was listed in serious but stable condition. He is being charged with two counts of unlawful restraint and unauthorized use of a motor vehicle.
This is not the first time that Wright has been in trouble with the law. Fox 4 reported that court records show that he has "a long list of charges including assault and family violence, arson, theft, making a terroristic threat, resisting arrest and drug charges."
"I'm not a killer or anything, but I do believe in defending what's mine," she told Fox 4. "I hope that woke him up."
OUR TAKE
What a fine example of your Second Amendment at work!
It is noteworthy that this brave mother's action occurred in Texas, the home of Sen. John Cornyn (R-Tex.), who recently stabbed gun owners in the back by being instrumental in the development of the Bipartisan Safer Communities Act.
As reported to you last month, Texas Republicans let Cornyn know precisely how they felt about his anti-Second Amendment activities by booing him at the state GOP convention.
This woman's story is a timely reminder of what is at stake with any new gun control — especially given the latest battles over gun control are slated to begin in the House regarding the recently reintroduced Assault Weapons Ban of 2021 Bill.
Anti-gun Democrats and their RINO colleagues continue to gut the Second Amendment with their proposed weapons bans and their Red Flag laws — none of which seem to keep guns out of the hands of the Robert Crimo III's and Salvador Ramos' of the world.
Gun owners must fight for their Second Amendment rights so people like this Texas mother can defend what is hers.