CHICAGO, IL – It's warming up in the Windy City, and as has become 'the new normal' for the Democrat-controlled city, that means rising violent crime. Lori Lightfoot's city saw 37 people shot, with nine killed and 26 wounded over the weekend, according to the Chicago Sun-Times.
The Chicago Police Department reported that one of the deceased was a man shot to death while trying to commit a robbery.
The incident, which took place at about 3:45 p.m. Saturday on the South Side, began when two men who were leaving a store began talking to another man. Police told the Sun-Times that when the two men entered their Volkswagen SUV, the man they had spoken to entered the backseat, struck one of them with a handgun, and demanded their belongings.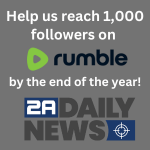 One of the men pulled out his gun and shot the would-be robber in the forehead, left leg, and chest. The would-be thief, identified by the Cook County Medical examiner as 32-year-old Xavier Johnson, was pronounced dead at the University of Chicago Medical Center.
Another shooting took the life of a 26-year-old woman when a man pulled a gun on two women and shot both of them.
According to FOX 32 Chicago, the man was engaged in an argument with the two women at about 1 a.m. Saturday morning near the House of Blues in River North when he pulled a gun and shot them both.
According to the Sun-Times, the 26-year-old woman was shot in the chest and taken to Northwestern Memorial Hospital, where she was pronounced dead. The other woman, age 31, was shot in the left thigh and was listed in good condition at Northwestern Memorial Hospital.
Indiscriminate Crime
Teenagers and the elderly were not immune from the crime spree, sadly.
A 69-year-old man was shot and killed when a suspect pulled out a gun and shot him in an incident at about 5:45 p.m. Friday on the West Side. The older man was pronounced dead from a gunshot wound to the chest at Mount Sinai Hospital.
A drive-by shooting resulted in a 16-year-old boy being shot on the left side of the face in an incident that occurred at about 2:20 a.m. Sunday on the Northwest Side.
According to the Sun-Times, the teenager was a passenger in a car when a dark SUV pulled up and someone inside opened fire. He was taken to St. Francis Hospital, where he was listed in critical condition.
OUR TAKE
Every week, radical-leftist politicians claim that giving them more power to restrict our God-given 2nd Amendment rights will result in less crime and safer streets.
Yet every Monday morning, we show you example after example from their big cities proving that such restrictions do not work — and only encourage the criminals.
Sad. Truly sad.