CHICAGO- Not even Easter weekend brought a respite from the violence that plagues the Windy City. Instead, Chicago residents awoke on Monday morning to learn of one man killed and at least sixteen others shot and wounded between Friday night and Easter Sunday.
Sunday saw the brunt of the violence, with a 27-year-old man shot and killed around 2:00 am.
While police were still on the scene of the young man's homicide, a 26-year-old woman was struck in the forearm while waiting to order inside a restaurant on the South Side.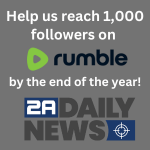 ABC 7/ Chicago Sun-Times reported that around 2:45 a.m., two men began arguing inside the restaurant. One of the men went outside and started shooting back inside the building. The intended victim responded with his own gunfire from inside the restaurant, injuring the woman. She has been listed in fair condition. Police are still investigating the incident.
Our Take
According to the Chicago Tribune, there have been 145 homicides in the city from January 1st through April 9th. The criminals run wild, while law-abiding citizens are burdened with the same gun control laws that Joe Biden and pals claim will lower violent crime at a national level!

For all their talk about 'common sense' gun control, it's seems clear to us that the more common sense approach would be to get rid of the gun control that has disarmed innocent people and made them easy targets for violent criminals!
No doubt that the law abiding citizens of Lori Lightfoot's city are looking at the rising temperature and the holiday weekends to come with a weary eye.