LOS ANGELES- Two people are dead, and five others are injured after gunfire erupted at a baseball diamond near a car show just after 4 p.m. Sunday in Peck Park in the San Pedro neighborhood of Los Angeles, ABC 7 Los Angeles reported.
Police told reporters that the incident began as a dispute between two people at the baseball diamond. As shots rang out, hundreds of people gathered in the park for the car show, and other activities began to flee the scene in terror.
"All of a sudden we heard three shots – pow pow pow," said Dwayne Ellis, a witness, told ABC 7 Los Angeles. "Then we heard about 50 or 100 more — pow pow, boom boom. All kinds of shots. People were running."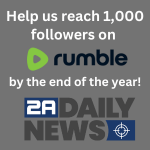 CBS Los Angeles reported that the age ranges of the victims were between 23-54, with four being men and three being women.
The Los Angeles Police Department told reporters that there was no one in custody, and it was unclear how many suspects there were.
The shootings came just two days after California Governor Gavin Newsom signed a bill that allowed private citizens to sue anyone who makes, sells, or distributes illegal "assault weapons or ghost guns," according to Fox News.
Newsom's activities in recent weeks have led to widespread speculation that he will be making a run at the White House- possibly as soon as 2024, given President Joe Biden's atrocious job approval numbers and accelerating cognitive decline.
California, known for its harsh gun control laws, is ranked number one in the nation on the Giffords Law Center's Annual Gun Law Scorecard.
OUR TAKE:
No matter how many laws they pass restricting the Second Amendment rights of their citizens, leftists California Democrats, dreaming of a gun-free utopia, cannot shake the fact that shootings are still occurring in their state.
It will continue to be this way because, as we have said before, the only people restricted from getting guns under gun-control laws are the very law-abiding citizens.
Politically active gun owners should carefully watch Newsom's apparent White House interest, especially if the Democratic Party looks to him as their future. There is no doubt that Newsom
intends to bring the same anti-gun policies to Washington D.C. as he did in Sacramento.