ALBANY, N.Y. – Democratic New York Governor Kathy Hochul issued two executive orders on Wednesday, one of which was designed to further expand the state's red flag laws.
We reported earlier this week how New York's Red Flag law failed to stop 18-year-old alleged mass shooter Payton Gendron from purchasing the weapon he used to kill ten people at the Tops Friendly Market in Buffalo last weekend.
Hochul didn't mention that detail at her press conference.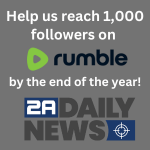 Instead, she signed into law an executive order that would make it mandatory for state police to file an 'Extreme Risk Protection Order' in cases "when authorities have probable cause to believe someone is a threat to themselves or others." WKTV reported.
Hochul's second executive order calls on the Division of Homeland Security and Emergency Services to establish a new unit dedicated to fighting "domestic terrorism."
 CBS News New York said this would be "the first ever office of counter terrorism meant to fight the rise of white nationalism."
CBS News New York reported that Hochul 'regarded white nationalism and white supremacy as the most serious threat facing the United States today.'
Hochul further ordered state police to dedicate a unit to monitor social media for "potential threats by extremists," the New York Post reported.
"The message to New Yorkers is we're going to continue to protect you as New Yorkers and have smart gun safety laws on the books, but we're also going to continue calling on the federal government to respond in a way that they have not in the past," Hochul said, according to CBS News New York.
Hochul also instructed New York Attorney General Letitia James to investigate the online social media platforms that Gendron used to broadcast his rampage.
OUR TAKE:
Hochul made no mention of the facts we reported yesterday: that Gendron had already threatened to kill himself and others in his high school — and then went on to publish hundreds of messages online detailing his murderous plans over the course of several months.
That's exactly the situation that politicians use to justify passing unconstitutional Red Flag laws in the first place.
But despite having usurped millions of New Yorker's gun rights in passing such a law — on the grounds that it would be 'worth it' if it prevented a mass shooting — nothing was done.
Rather than admit that the Red Flag law did absolutely nothing to stop this young man, Hochul wants to double down on her failed leftist policies.
Does Hochul acknowledge that the victims of the Buffalo shooter were all unarmed and defenseless as a result of her policies? No, of course not.
Hochul's Hands Aren't Clean
Gun owners will remember that Hochul assumed her position as governor upon the resignation of Andrew Cuomo in August 2021 amid documented allegations of sexual harassment and groping. 
That is, the horse she rode into power on…was a jackass.
Then in 2020, while Hochul was serving as Lieutenant Governor, the Cuomo Administration was rocked by scandal due to their horrific order that Covid positive, non-geriatric patients be placed in nursing homes.
An audit released in March revealed that the Cuomo Administration severely under-reported the number of deaths in nursing homes due to the directive.
It's hard for us to buy that these are the same people who pretend they're the moral compass for the rest of America.
The Real Agenda
"You never want a serious crisis to go to waste." These words, spoken by Rahm Emanuel, former Chief of Staff for President Obama, could easily be made to be the slogan of the Democratic Party.
Almost from the second Payton Gendron surrendered to law enforcement, Democrats have been on the warpath to make all of their freedom-hating, anti-Second Amendment dreams come true.
As we reported to you, the Biden Administration is using the Buffalo massacre to gather momentum for senate approval of anti-gun, former U.S. Attorney Steve Dettelbach for the position of ATF boss.  
Now, Governor Hochul is taking advantage of this tragedy to advance her anti-gun agenda in the Empire State.
The Buffalo massacre, combined with what appears to be a red wave coming in November — in the face of rock-bottom approval ratings for President Biden — has signaled a seismic shift in Washington.
It looks to us like the Democrats are trying to cram through legislation and executive orders designed to gut as much of the Second Amendment as they possibly can between now and their possible Election Day reckoning in November.
After all, what do they have to lose?
The gun community cannot sit back and let sellout-organizations handle the fight to defend the Second Amendment any more.
If you are in a state with primaries coming up, now is the time to dig deeply into where the candidates stand; this is no time to be electing RINOs! It's time to stand up and get LOUD about our gun rights!