-Chicago, IL
All major rideshare companies, such as Uber and Lyft, prohibit their drivers from carrying firearms for self-defense.
While they may allow non-lethal means to protect themselves, those don't do much good against thugs with firearms. The great equalizer is the best chance these drivers will have in an armed robbery situation.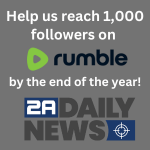 A driver in Chicago had to defend himself recently when two robbers took his cell phone and then began shooting at him as he fled, according to ABC 7 in Chicago.
The driver fired back at the suspects, hitting the male in the leg and grazing the female's arm. The male suspect went to the hospital and the woman declined any medical help.
Thankfully, the driver was not injured in the exchange.
Do you believe the driver will be fired for defending themselves? Let us know what you think in the comments below.