Missouri GOP Senate candidate Eric Greitens just made a flip-flop on the Second Amendment Preservation Act that would make notorious GOP flip-flopper Mitt Romney blush.
Romney has long been known as one of the biggest flip-floppers in the GOP after his failed 2012 presidential bid. Now, former Missouri Governor Eric Greitens is giving Romney a run for his money on the biggest flip-flopper in the GOP.
Greitens made it very clear in a radio interview that he opposed Missouri's recently passed Second Amendment Preservation Act.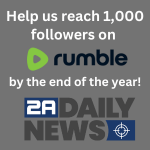 In the interview, Greitens falsely claimed that those who passed SAPA "defunded the police." He also incorrectly claimed that police could be prosecuted via SAPA, that local police couldn't get help from the Federal government, and that RINOs only backed the law.
Finally, Greitens said the law should be revisited, clearly indicating his opposition to SAPA.
When Greitens realized his campaign had just taken a significant hit with gun owners in the state, he flip-flopped. Greitens then said he supported SAPA and posted the following on Twitter:
I 100% support the Second Amendment Preservation Act. Do-nothing establishment RINO's and lobbyists will never truly stand up for the Second Amendment to protect your gun rights. Don't be fooled."
However, gun owners in Missouri say that they aren't buying his flip-flop and that they will never forget how Greitens did nothing for them while he was governor.
Aaron Dorr is the Executive Director for the Missouri Firearms Coalition. Dorr sent 2ADN the following quote about Greiten's flip-flop:
Eric Greitens is an arrogant cheater who thinks he can attack Missouri's gun owners and our new SAPA law and get away with it. Good luck."
Dorr also joined Dana Loesch to discuss the Greitens flip-flop on SAPA. You can see that interview here (story continues below):
During the interview, Loesch reminds viewers that it wasn't until 2015 that Greitens first became a Republican, just before his gubernatorial run.
Greitens was only governor for a year and a half (January 2017 to June 2018) before a felony invasion of privacy charge was issued. Then, he was accused of sexual assault by his former hairdresser. Greitens resigned in June but is back now to try and become a "Republicans" U.S. Senator.
While Greitens was governor, Dorr said that he did nothing to help gun owners. Dorr also said that Greitens was the only political figure in the state who never publicly supported Constitutional Carry.
When Missouri's gun owners were fighting hard to override their Democrat governor's veto on Constitutional Carry, Greitens was nowhere to be found Dorr said.
What do you think of Greiten's flip-flop?
Let us know in the comments below.