One of Georgia's most anti-2nd Amendment candidates ever to run for office, Stacey Abrams, is set to run for the governorship again next year.
Abrams famously lost her race to current Governor Brian Kemp and refused to concede. So, is she running for re-election then? We're not sure, but we digress.
Earlier today, Abrams told her followers that she was running for governor. Here is what Abrams tweeted: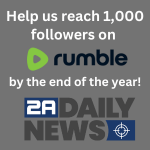 I'm running for Governor because opportunity in our state shouldn't be determined by zip code, background or access to power. #gapol"
Abrams, who lost by just under 55,000 votes in 2018, was notorious for her blatant disregard for the 2nd Amendment.
During the 2018 campaign, Abrams was endorsed and supported by nearly every radical leftist you could find including anti-semite Linda Sarsour, Elizabeth Warren, George Soros's son, Hillary Clinton, and more. And of course, Abrams enjoyed the endorsement of every gun-grabbing group in the country.
What stances has Abrams taken specifically? Here are just a few of them:
Supports a new "Assault" Weapons Ban
Ban all private sales
Supports waiting periods for purchasing firearms.
Anti-Stand-Your-Ground
Of course, constitutional Carry is also an issue that Abrams is sure to oppose and any other pro-2nd Amendment measure. However, Abrams seems to love nothing more than cowering to the anti-gun lobby in Georgia and D.C. than standing up for the rights of Georgians.
That's why she was hammered so hard in 2018 by Georgia Gun Owners, the most prominent grassroots group in the state.
GGO ran ad after ad exposing Abrams for the gun-grabbing socialist that she is. And GGO didn't have to do much more than letting Abrams's anti-American stances speak for themselves.
Here are a couple of the videos showing gun owners exactly who Abrams is on the 2nd Amendment (story continues below):
Gun owners mobilized en masse in Georgia to stop Abrams from becoming governor.
GGO sent out emails and ran radio and TV ads doing everything they could to expose Abrams's record on one of the most critical issues to Georgians. Heck, it's one of the most important issues to all Americans.
One of the ads that GGO ran was particularly damaging to Abrams's campaign. Check out this ad:
2nd Amendment Daily News reached out to Georgia Gun Owners for comment on the Abrams/Kemp rematch.
Executive Director Aaron Dorr told 2ADN that he isn't surprised that Abrams will give it another shot. However, Dorr said that gun owners need to be ready to expose Abrams's record on the 2nd Amendment once again.
Here is what Dorr also said regarding the 2022 rematch:
Socialist Stacey Abrams is officially running for Governor to CRUSH our gun rights. If Abrams gets in power she will immediately repeal Stand-Your-Ground law, register every gun Georgians own, and work to pass crippling 'Red Flag' laws!

Georgia Gun Owners excoriated Abrams last time, and we're going to do it again. Because if we lose our gun rights, there's no getting them back.

This isn't just a fight for Georgia, this is a fight for the heart and soul of America. The radical left is mobilizing across the country as we have never seen before and if they take out red states like Georgia, the country is lost. So, no matter what state you are in, you better be ready for one hell of a fight in 2022."
For gun owners wanting to get involved with Georgia Gun Owners, you can go to their website and help them expose who Stacey Abrams really is!
Abrams's radical agenda almost got her the governorship in what was once considered one of the "reddest" states in the country.
Is Georgia going the way of Virginia and Colorado? Are Georgians going to mobilize against Abrams's anti-American agenda?
Let us know what you think in the comments below.