Last night 14 Republicans jeopardized the right to keep and bear arms in grave fashion.
Democrats have been itching to get rid of the filibuster for years now so they can ram through massive amounts of gun control. Well, Republicans may have just given them what they wanted in a backroom deal that has stunned political pundits.
The US Senate is "controlled" by Democrats, barely.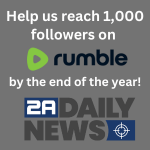 Sixty votes are needed by either party to overcome a filibuster. So the ONLY reason we have been able to stop gun control in the Senate is because of the filibuster.
So, last night, Republicans told Sen. Chuck Schumer (D-NY) that this "one time" they would not filibuster so that the debt ceiling could be raised, removing the best barrier gun owners had to stop gun confiscation orders, universal background checks, and more.
Who were the 14 Republicans who stabbed gun owners in the back last night and jeopardized the 2nd Amendment?
John Thune (SD)
Mitch McConnell (KY)
John Barrasso (WY)
Roger Wicker (MS)
Shelley Moore Capito (WV)
Susan Collins (ME)
Roy Blunt (MO)
Thom Tillis (NC)
Lisa Murkowski (AK)
Richard Burr (NC)
Joni Ernst (IA)
John Cornyn (TX)
Mitt Romney (UT)
Rob Portman (OH)
Time and time again, the GOP has told gun owners to "trust" them and that they are standing with you to fight for freedom. But, sadly, time and time again, the GOP has proven just and weak some of them are.
Rubio, Ernst, McConnel, Thune, and others have stabbed gun owners in the back over and over again.
What happens next time there is a mass shooting and the radicals from Moms Demand Action, Everytown for Gun Safety, and March for lives go to the Senate Democrats and demand action? The Senate Democrats will go back to these backstabbing Republicans and make another backroom deal.
Do these Republicans think we aren't paying attention to what they are doing? Do they believe we don't remember these betrayals?
Is there a gun owner out there that doesn't understand that we now don't trust that they will help stop a Red Flag Gun Seizure bill in the name of "safety?"
However, make no mistake that these 14 Republicans will go back to their home states and try to justify their betrayals. They think the voters in their states are too stupid to know what just happened last night.
Don't let these 14 Republicans off the hook. Instead, hold them accountable at election time.
In fact, if one of these Senators is your Senator, call them right now using the Senate switchboard number at 202-224-3121.
What did you think of the Senate vote last night? Let us know in the comments below.