SANTA MONICA, Calif.- Leftist movie director, producer, and Co-CEO of Bad Robot Productions J.J. Abrams joined his signature with over 200 CEOs in a letter to Senators demanding increased gun control legislation.
Abrams signed the document even though he has made millions of dollars for himself and billions for Hollywood studios by feeding the public movies and television shows that glorify gun violence, according to the Internet Movie Firearms Database.
Abrams' resume includes television shows such as ABC's Alias and movies like Mission: Impossible III (which he directed) and Mission: Impossible- Ghost Protocol (which he produced), among many others.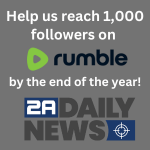 In recent weeks our country has been forced to reckon with the killings at Robb Elementary School in Uvalde, Texas, the equally horrifying events at the Tops Market in Buffalo, and the 14 additional mass shootings that took place in just the ten days between the two," the letter signed by the CEO's stated. "These shootings have destroyed families and communities, shaken our country, and highlighted the lack of action from the US Senate."
The CEOs did not indicate what kind of Senate action they wished to see lawmakers perform.
We urge the Senate to take immediate action," the letter stated. "Gun violence can be prevented. Our families, our communities, and our places of business are depending on you. Stand with us and the American public. Put the safety of your constituents and their children first. Transcend partisanship and work together to pass bold legislation to address gun violence in our country."
Abrams, who serves as co-CEO of Bad Robot with Katie McGrath, is no stranger to woke, leftist causes, as evidenced by the Bad Robot's Guide To Dismantling White Supremacy at Work, a guide for employees, encouraging them to engage in the "delicate, raw, humbling, and enraging work of anti-racism." The manual included works from authors such as Ibram X. Kendi and Ta-Nehisi Coates.
OUR TAKE
We wonder if Abrams may have taken a split second to ask himself how he and his production company may have contributed to the glorification of guns and violence.
After all, how many leftists like Abrams produce and direct Hollywood films with guns of all sizes, shapes, and calibers tossed around like candy from a float at a small-town parade?
We understand, however, that this would require a level of self-introspection and self-awareness that Hollywood elitists do not possess.
Nor do they possess the concept of self-responsibility. Consider the basic gist these fat-cat CEOs' letter: "We don't like this. The government needs to do something about it."
As any intelligent person knows, not just gun owners, if you ask the government to do something, they will happily do it, but it will cost you. Often with your money and your freedom.
You can counter the voice of these radical leftist CEOs by writing your legislator and telling them to say no to any restrictions of the Second Amendment. You can fill out this form provided by the American Firearms Association below: