ATLANTA- In response to a Centers for Disease Control and Prevention study showing a spike in the firearms homicide rate during 2020, the first year of the COVID-19 lockdowns, a high-ranking member of the agency suggested planting trees could be a great way to curb gun violence.
Debra Houry, the agency's National Center for Injury Prevention and Control director told The Hill that "initiatives like restoring vacant lots by planting trees and grass have been shown to reduce firearm violence."
Houry's comments were made in response to the CDC Report Vital Signs Changes in Firearm Homicide and Suicide Rates — United States, 2019–2020, which showed that the firearm homicide rate increased 35 percent nationwide in 2020, reaching its highest level since 1994.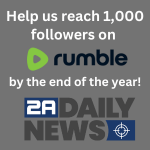 The Hill pointed out that 79 percent of all homicides in 2020 were firearms-related, rising by 35 percent.
The study showed that gun violence increased across all demographics regardless of sex or location.
However, it did note that "young persons, males, and Black persons," groups that consistently have the highest firearm homicide rate, experienced the most significant increase in 2020.
The Hill noted that the largest increases were among black men between 10 and 44.
"The study did not reach any conclusions about the reasons for increasing rates of gun violence, but it's likely that the pandemic had an outsized role," The Hill said.
In the Discussion section of the report, the CDC alluded to more gun control and "addressing iniquity as a solution."
"Approaches that focus on enhancing firearm safety and storage, particularly to protect persons at risk from harming themselves or others, are part of a comprehensive prevention strategy. For example, research suggests that physician counseling paired with provision of a safety device is associated with safer firearm storage practices in the home. A recent review also concluded that child access prevention laws have been associated with lower rates of youth firearm self-injury, including suicide, and laws preventing firearm ownership by those under domestic violence restraining orders are associated with reductions in intimate partner homicides. It is important to examine the circumstances and mechanisms (e.g., implementation processes and changes in knowledge or norms) that facilitate the most effective firearm safety approaches. There is substantial need for additional research to expand the evidence base for programs, policies, and practices that effectively reduce firearm injuries and deaths, and that address inequity in risk for violence and suicide."
WXOW reported that Houry suggested that planting trees can be a solution to gun violence in addition to childhood subsidies.
"We've also funded research around greening initiatives to where you can go in and make a vacant lot look better by planting grass and trees. That's been shown to reduce firearm assaults by up to 29% in impoverished areas," Houry said.
OUR TAKE
There was no word from Houry or any other CDC official about what to do if you are robbed at gunpoint while planting a tree in the inner city.
The only solutions the left can offer are policies rooted in what leftists in the Federal Government want to do anyway. Plant trees? Absolutely. This emphasizes Washington's obsession with "climate change," so if any bureaucrat like Houry can suggest that gun violence can be solved partly with environmentalism, they will look like geniuses.
What the report didn't mention was the rioting, looting, and rampant destruction that went unchecked in 2020.
They also didn't mention the fact that tens of thousands of criminals nationwide were released early from jail because it was 'safer' for them to be out in the streets than in jail, where they might catch Covid.
Will they look into uncomfortable subjects that may have triggered this spike, such as a fuller investigation of the ramifications of the government-enforced lockdowns to address COVID-19 (and whether or not the CDC's quarantine policy should ever be done again), gang affiliations, or fatherlessness?
It doesn't fit the narrative, so the CDC isn't interested.