Georgia gubernatorial candidate David Perdue has told Georgians that he will sign Constitutional Carry into law.
Constitutional Carry has swept the country in recent years. Twenty-one states now no longer have a government-mandated licensing requirement for simply exercising the right to keep and bear arms.
One of the "red" states that many gun owners thought would have passed Constitutional Carry by now is Georgia.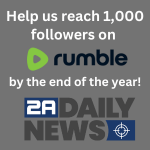 Current Governor Brian Kemp had told Georgia Gun Owners in 2018 that he supported Constitutional Carry. However, many gun owners have been frustrated by Kemp's lack of action to get the law passed.
It isn't uncommon for elected officials to tell gun owners what they want to hear on the campaign trail but then turn on those same gun owners once they are safely in office.
The Speaker of the House, David Ralston, told the Atlanta Journal-Constitution that he believes Kemp supports Constitutional Carry, but it depends on what version. Here is what Ralston said in the AJC,
It means different things to different people. And there are some versions that have some appeal to me and satisfy folks who have strong feelings about it. We'll have some dialogue."
Uh, what kind of leadership is this from Ralston and Kemp?
There is really only one way to do Constitutional Carry that is solid and good. For most gun owners, there is only one way to do it.
No disclosure to police that you have a firearm.
Make it for all Americans and not just the citizens of your state.
No training requirements.
Should be 18-years-old but 21-years-old isn't uncommon.
Should apply to everywhere that it is already legal to carry without restrictions in places like vehicles and so forth.
For the most part, that's all Constitutional Carry is, and any consideration against these common points will not be acceptable to most gun owners.
While Kemp continues to waffle on the issue and not show authentic leadership on the subject, one of his Republican challengers for next year's primary is trying to make a move on Constitutional Carry.
Former U.S. Senator David Perdue is telling Georgians that he supports Constitutional Carry and would sign it if the bill hit his desk if he were governor. Here is what Perdue posted on Facebook:
Law-abiding citizens should be able to exercise their #2A rights to carry a firearm without having to pay for and carry a government permit.

21 states have constitutional carry, but despite his promises on the campaign trail, Brian Kemp has failed to make it a reality in Georgia. As Governor, I'll work with the state legislature to FINALLY enact constitutional carry.

At a time when the woke left is threatening to confiscate our guns and take away our rights, Georgia needs a bold leader who will make waves to get things done – not a career politician who hasn't delivered."
Perdue appears to be using Constitutional Carry as a vital issue in taking down Kemp. The question is, if Perdue unseats Kemp, will he follow through on his promise to get Constitutional Carry into law, or is he another Republican candidate using the 2nd Amendment to try and get himself elected?
So far, a bill has not made it to the governor's desk, despite Republican control of both chambers of the legislature.
But gun owners in Georgia are making their voices louder and louder, and Georgia Gun Owners has been pressuring the legislature and the governor to take action before someone like Stacey Abrams gets elected, and any chance of Constitutional Carry is gone.