In an evening that was history in the making, Pennsylvania Republicans have passed S.B. 565 through the House tonight by a vote of 107 to 92. We reported last week that the Senate, too, had made history by passing the same legislation.
This session saw the first time that either legislative chamber of the Keystone State had passed a Constitutional Carry bill – much less both!
The vote tonight was the result of months of effort by grassroots gun owners who relentlessly pressured their Republican legislators to deliver for the gun owners who had elected them.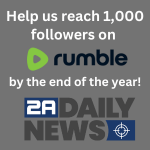 And after the events of the last 18 months, gun owners weren't willing to accept any more stalling, excuses, or lip service! Led by the state's most powerful second amendment organization, the Pennsylvania Firearms Association, gun owners made it clear that there would be a political reckoning at the ballot box for any Republicans who refused to move this bill.
We contacted Chris Dorr, Executive Director of the Pennsylvania Firearms Association, and asked his thoughts on the passage of the bill.
Dorr replied,
Pennsylvania Republicans are showing Republicans in swing states just how you restore freedom and win elections – by fighting for the base.

The Democrats can wail and gnash their teeth, but firearms freedom is winning in Pennsylvania and Pennsylvania is winning because of it!"
You can catch a full recap of tonight's historic vote from the Pennsylvania Firearms Association here.
Of course, gun owners in Pennsylvania knew that several other states had passed Constitutional Carry this year including Iowa, Utah, Montana, and Tennessee!
The next legislative session presents a huge opportunity to gun owners nationwide. Now is the time to bring the political pressure on your Republican legislators because it's become clear that if they won't hold the line against the radical left, gun owners will show them the door the next election cycle and replace them with legislators with a SPINE!
A big shout out to Rep. Aaron Bernstine, the House Sponsor for HB 565 for helping push the bill through!