With the world in absolute turmoil under the Biden White House and the Russia/Ukraine crisis, we have some great news for Americans!
Kyle Rittenhouse will sue all celebrities, organizations, athletes, and media outlets for calling him a murderer and a white supremacist. This is music to our ears!
Celebrities such as Whoopi Goldberg are first on Kyle's list and Cenk Uygur of the Young Turks. Both have called Rittenhouse a murderer, even after his acquittal by a jury of his peers.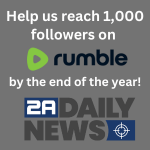 Rittenhouse was on Tucker Carlson's show to discuss the upcoming lawsuits and told Carlson that he was also going to go after people who had smeared him as a white supremacist.
Remember, in the immediate aftermath of the shootings, some media outlets, and other individuals said that the shooting was racially motivated. The only problem was that Rittenhouse shot three white people, completely negating their arguments.
During the trial, no evidence ever surfaced to suggest that Rittenhouse was a white supremacist, and even the FBI said after going through Rittenhouse's phone that no such evidence existed.
Hopefully, CNN, MSNBC, and Lebron James are on the long list of organizations and people Rittenhouse is going after. There has to be accountability for things to change.
Here's hoping that Rittenhouse will never have to work again and is victorious in case after case in defense of his name.
You can watch Rittenhouse on Tucker Carlson announcing his attention to sue the living crap out of everyone, and we love it: