Today, the Georgia Senate made history by passing Constitutional Carry (SB 319) through its Senate 34-22 on a party-line vote!
Constitutional Carry has been a massive fight for years in Georgia. Georgia's largest grassroots 2nd Amendment group, Georgia Gun Owners, has been fighting for Constitutional Carry for years.
In 2018, GGO got Governor Brian Kemp to complete their survey, where he indicated his support for Constitutional Carry.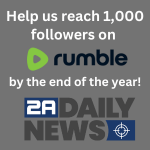 However, Republicans in the House and Senate have been stonewalling the legislation for years, and Kemp put no effort forward to get the legislation moving. This year, gun owners across the state have begun putting massive amounts of pressure on their legislators to finally act on Constitutional Carry or face the consequences at the ballot box.
Even Kemp is renewing calls for Cosntitutional Carry and saying he would sign the bill. But, of course, it is an election year, so now would be the time for Republicans to finally grow a spine in Georgia and pass what should have been passed a long time ago.
2nd Amendment Daily News asked Aaron Dorr, GGO's Executive Director, what it has been like to get the bill this far. Here is what Dorr said,
Gun owners in Georgia are disgusted with Brian Kemp and the legislature for blocking Constitutional Carry for ten long years.

Georgia Gun Owners has been using aggressive tactics to flood the Senate with pressure in support of Senate Bill 319, and we're pleased to see the chamber listen to gun owners and pass this bill out today. Major shout out to GGO members who have fought so hard for this!"
Sadly, Dorr is right in that Republican legislators all too often don't want to listen to gun owners when it comes to restoring the 2nd Amendment.
Too many legislators feel that they know better than you. A lot of them feel like they have to "play nice with the other side."
If gun grabbers were in control, we know they would try to put their boots on gun owners' necks, just like they did in Virginia. Yet, in so-called "red" states, gun owners have to put massive pressure on Republicans to do the right thing.
Thankfully, GGO members have been successful so far.
Dorr said that despite this historic victory, the pressure had to continue. He concluded by saying,
Today is a fantastic day for freedom and the members of Georgia Gun Owners who fought so hard for this vote. Now we move to the House, where the corrupt Speaker Ralston will try to weaken this bill or kill it outright.

It's going to be a fight, but our members are looking forward to it! And with this being an election year, any actions against Constitutional Carry will be addressed swiftly!"
So many states have joined the ranks of Cosntitutional Carry, and now it's Georgia's time.
With the state slowly slipping into purple territory, gun owners can't wait any longer. In fact, this may be the last chance to make it happen, especially if a radical Democrat wins the governorship.