Texas passed their Constitutional Carry bill into law earlier this year.
On June 16, Texas Governor Greg Abbott (R) signed the Constitutional Carry bill into law. Despite the usual doom and gloom scenarios painted by the gun control crowd, gun owners in Texas knew the law wouldn't turn the state into chaos as other states with Constitutional Carry had already proven.
The new law has been in effect for just six days, and the mainstream media seems fairly silent on the issue since the "blood in the street" predictions are already proving false.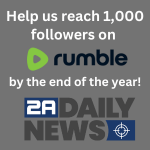 Gun control advocates tried to stop the new law using many of the same arguments that they tried to use in other states that passed Constitutional Carry. On the Texas Gun Sense website, here is one of the reasons they listed as a reason that Constitutional Carry was bad for Texas,
Permitless carry hurts small businesses. Hundreds of Texas firearms instructors' businesses will be negatively impacted by this policy. Businesses already strained by the coronavirus pandemic will need to post signage to prevent the unlicensed carry of handguns onto their premises.
One of the common tactics used by the gun control crowd is to find several firearm instructors concerned about losing money from their firearm training programs and putting them on the media to talk about how they should determine when you are qualified to defend yourself.
The gun control crowd and media in Texas also found the typical "gun owner" that talked about their longtime hunting escapades and discussed why "not just anyone should carry a gun."
Of course, none of the gun owners who understand this issue and can defend it were given much air time in comparison.
The law passed despite the lies and attacks on Constitutional Carry by Texas gun control advocates and law enforcement agencies. And has the state fallen into anarchy? No.
Just as we have seen in other states with Constitutional Carry, Texas will enjoy Constitutional Carry for years to come without anything changing other than criminals now being concerned that even more Texans are armed to defend themselves. At the same time, gun control advocates will continue to predict inaccurate doom and gloom scenarios.
Do you live in a Constitutional Carry state? Have the gun control advocates' predictions of "blood in the streets" come true? Let us know in the comments below.