Missouri State Senator Steven Roberts (D-5) is proposing Senate Bill 1016, which would completely demolish Constitutional Carry in Missouri.
Gun owners in red states must realize that the left isn't giving up the fight to pass gun control. No matter what state these issues pop up in, you must recognize that gun grabbers in one state always replicate these dumb ideas in other states.
A few years ago, Missouri had a monumental year for its gun owners by passing Constitutional Carry. However, it didn't come without a fight, as the legislature was forced to override a governor's veto that threatened to derail the legislation.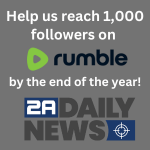 It was the gun owners from the Missouri Firearms Coalition that fought alongside legislators like Sen. Eric Burlison (R-20), the primary sponsor of the legislation who was a House member at the time, that made Constitutional Carry a reality.
Now, all that hard work is threatened as Democrat lawmakers and gun control groups are trying to undo the hard work of gun owners.
Roberts is quoted in KMOV4 as saying,
It would create a conceal carry permit requirement if you want to conceal or open carry a firearm in public. If you want to keep a firearm in your house, personal safety, I understand."
Aren't we past the fearmongering and absurd arguments against Constitutional Carry now?
Gun grabbers and these lousy anti-gun politicians constantly argue that Constitutional Carry shouldn't be law and insist that crime is the problem of firearms and not the policies they enacted in their states. They believe that banning guns or controlling who can carry them will somehow stop criminals from completely ignoring the law.
2nd Amendment Daily News reached out to Aaron Dorr, Political Director for the Missouri Firearms Coalition, and asked him what their reaction is to Robert's proposal. Here is what Dorr said,
Radical leftists are going to be pushing hard this year in Jeff City to undo the hard work of gun owners and pro-2nd Amendment legislators who fought for Constitutional Carry. Gun owners can't take anything for granted, even with a Republican majority in both chambers.

Stay in the fight to protect the 2nd Amendment and stand with the Missouri Firearms Coalition as we expose gun grabbers in both parties who want to destroy your right to keep and bear arms."
For those in Missouri looking to stop Roberts, go to missourifirearmscoaltion.org and get involved!