South Dakota is already one of over 20 Constitutional Carry states.
Now, Governor Kristi Noem (R) is advocating that fees for the permit be eliminated for those still wanting to get the permit. Noem was also governor when Constitutional Carry was passed several years ago.
Noem addressed the issue in her the State of the State address, saying,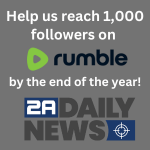 Let's also eliminate all fees for concealed carry permits in the state. We will pay the costs for federal background checks, as well. It will not cost you a penny to exercise your Second Amendment rights in South Dakota.

"Three years ago, Constitutional Carry was the very first bill that I signed as Governor. We guaranteed the right of our people to keep and bear arms. Together, we will continue to defend this key constitutional liberty."
It's not often you get a governor to make announcements like this publicly, and they rarely do it during a State of the State address.
Most Republican governors sit in the background, merely signing legislation when it hits their desks. But, then, when a bill is signed, they have their team Tweet about it and post about it on Facebook, but rarely do they speak in favor of a pro-2nd Amendment issue before it hits their desk.
Noem is up for re-election this year, so it can't be discounted that she is possibly pushing for this to bolster her 2A credentials. However, there has been no reason so far for gun owners to doubt that Noem is a serious supporter of the 2nd Amendment.
Constitutional Carry and the fight to restore the 2nd Amendment will be taking center stage in states across the country in the coming months.
Gun owners must be ready to fight hard to pass pro-2nd Amendment legislation in their respective states. Don't sit back and assume that the Republican politicians will do it for you.
Find the good legislators in your state capitol and work with them to turn the pressure on the RINOs looking to coast through the election without fighting for your gun rights!