LIZELLA, Ga.- A 25-year-old man is dead from gunshot wounds to the chest after he ran wild through a neighborhood with no clothes on, eventually attacking an older woman while she was riding on a lawnmower.
The woman's husband pulled the trigger.
FOX 5 reported that the incident, which took place around 5 p.m. on Thursday, May 5th, at Trophy Place near Lizella, started when the naked man tackled a 67-year-old woman off a riding lawnmower.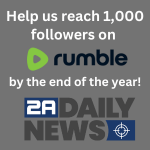 According to 13 WMAZ, the woman's 66-year-old husband tried to pull the naked man off his wife. The naked man, later identified as Tyler McElhenny, then attacked the husband before trying to beat the man's wife again.
The husband then got a gun and shot McElhenny, who was taken to the Medical Center, Atrium Health Navicent, where he was pronounced dead.
The woman was taken to Piedmont Macon Medical Center, where 13 WMAZ reported that she was in stable condition last week. The husband was treated on the scene for minor injuries.
Ken Burns, who has lived in the neighborhood for about five years, according to 13 WMAZ, described the neighborhood as a normally quiet, safe place.
Nevertheless, Burns said residents are prepared in case of trouble.
"We're all packing — even her — so if somebody comes in the house, we have ways to protect ourselves," Burns told 13 WMAZ.
OUR TAKE
We commend this husband for doing his duty by protecting his wife from this pervert's violent attack.
Who can know when some lunatic will just go nuts under the influence of drugs or alcohol or just plain crazy? This is why people
We love the neighbor's statement that they're all packing, but hopefully the message spreads beyond their neighborhood to criminals everywhere: armed citizens are not easy pickings!