CHICAGO- In an interview with Fox News published on Thursday, an active Chicago gang member told Chicago Correspondent Mike Tobin that illegal firearms were easy to get, despite the strict gun control laws in both the city and the State of Illinois
"The first gang member said he is in possession of both legal and illegal guns," Fox News reported. "Asked which one was easier to get, he answered without skipping a beat, 'the illegal one.'"
Tobin interviewed two active gang members to gain insight into their everyday lives in Chicago, under the leadership of pro-gun control progressive Mayor Lori Lightfoot. He reported that thus far this year, over 2,000 people have been shot, with 366 people killed, almost all gang-related.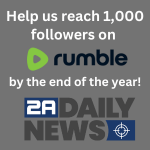 The pictured painted by Fox News was a world of violent, harrowing nihilism where traditional gang structures have disintegrated into splinter cliques with virtually no guidance from anyone.
"There's no one who people look up to," one member told Tobin. "Everyone takes orders from themselves. If you want to go kill that man, you're going to go kill that man."
Both gang members told Tobin the reasons an innocent person may get shot in the Windy City could be as innocuous as stepping on a person's shoe.
Bill Hemmer, co-host of America's Newsroom on Fox News, painted an equally distressing picture of the status of Chicago law enforcement. Hemmer reported that there are currently 2,000 vacancies in the Chicago Police Department. Chicago Fraternal Order of Police President John Catanzarza Jr. told Hemmer that 300 officers have turned in their badges this year, many of whom give up their pensions when they do so.
"It's not one in a million anymore, it's just not," Catanzarza said in the interview. "It's far too frequent. We've had three suicides in the last two weeks… Our officers have been working for two years now. We understood it in 2020 with the riots, but now it's just abuse. Everyone's numb to it at this point."
Fox News reported that Chicago police arrested only 12 percent of criminal cases in 2021, which is the lowest rate in 20 years. This low rate comes amid "sweeping changes" in recent years, Fox News reported, including restrictions on vehicle pursuits, not chasing a suspect if they flee on foot or a person committing a minor offense.
Catanzarza blamed the city's homicide rate on the school system, which he believed not only vilifies police but also does not hold lost children accountable, and Lightfoot herself.
OUR TAKE:
Trapped in the middle of all of this is the law-abiding citizen- the person in Chicago who wishes to live quietly, go to work and provide for their families.
On one side, they have uncontrollable gang members who have accepted that their lifestyle will either land them in jail or the graveyard, as Fox News reported, and have no morality that would stop them from opening fire on anyone for the most trivial of offenses. Furthermore, they are contemptuous of the Lightfoot Administration's gun laws.
On the other side, they have a police department that is hemorrhaging personnel and is, by all appearances, suffering from extremely low morale thanks to the progressive policies of their mayor.
And then there is Lightfoot herself on yet another side who appears to be interested in everything from insulting supreme court justices to pursuing a potential multi-billion dollar upgrade to Soldier Field in hopes of keeping the NFL's Chicago Bears from leaving the city for Arlington Heights.
All the while, she continues to stand by her failed gun control policies that gang members simply ignore.
Among the many political races coming up in the next year, February's Chicago Mayoral Election will be one we will be watching with interest. We hope that the law-abiding citizens of that once-great American city will go to the ballot box en masse and elect an administration that will cut the bureaucratic red tape they have wrapped the Second Amendment in and respect the Chicagoan's right to defend themselves inside that war zone.