CHICAGO- A woman with a concealed carry permit successfully stopped a group of men attempting to break into her car by shooting one after someone in the group pulled a gun on her on Friday, ABC 7/ Chicago Sun-Times reported.
The 34-year-old woman shot a 13-year-old boy in the incident, which occurred just before 8 p.m. Friday in the 1100 block of East 52nd Street in Hyde Park, according to Chicago police. The woman discovered a group of about four to five men attempting to break into her car. ABC 7/ Chicago Sun-Times reported that when she tried to confront the group, one of them pulled a gun on her. The woman took out her weapon and fired, hitting the 13-year-old in the neck.
The rest of the group of men scattered. The boy was taken to Comer Children's Hospital, where he was listed in fair condition, according to CBS 2 Chicago. Police are still investigating.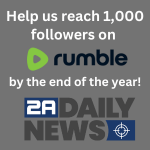 The woman's successful defense of herself and her property was a rare bright spot amid yet another wave of criminal gun violence that rocked the streets of leftist Mayor Lori Lightfoot's Chicago. According to ABC 7/ Chicago Sun-Times, 48 people were shot, five fatally, in the Windy City over the weekend.
OUR TAKE
We would love to know how long and hard this woman worked to get her concealed carry permit. When faced by a mountain of red tape put in place by leftist politicians and career bureaucrats, how many folks eventually just give up and find themselves defenseless?
Yet, as Fox News Chicago Correspondent Mike Tobin reported, gang members in the city are not phased by gun-control laws.
If Chicago politicians are genuinely interested in curbing violence in the city, cut the bureaucratic red tape and eliminate restrictive gun laws so that the law-abiding citizens can defend themselves.
It is good that this woman persisted through the red tape to get her permit and her gun because, as it turns out, she needed them.