LINCOLN, Neb.- In an Op-Ed published on Wednesday, Republican Governor Pete Ricketts of Nebraska vowed to continue to fight for Constitutional Carry.
Ricketts also called out nine Democratic members of the state's legislature who he said were responsible for stopping a recent Constitutional Carry bill.
"I'm confident it's only a matter of time before constitutional carry comes to Nebraska," Ricketts wrote. "But it won't happen without the determined activism of Second Amendment advocates in our state."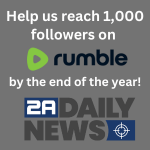 The bill, LB 773, was proposed by Senator Tom Brewer (R- Gordon) to bring Constitutional Carry to the Cornhusker State. Ricketts wrote that while most senators supported the bill, the vote fell just two short of the 33 votes needed to advance the bill.
LegiScan reported that voting broke down 31 yea, nine nays, six not voting, and three absent.
"All nine opponents were Democrats," Ricketts wrote.
Ricketts also called out the "burdensome hoops" a Nebraskan must jump through to conceal carry under current state law.
These include completing a handgun training and safety course, filling out a handgun permit application, and heading to the closest Nebraska State Patrol Troop Headquarters to submit the application, get fingerprinted, and undergo a background check.
After all that, they still must wait until the application is processed and the permit is issued.
At best, these steps are a nuisance to law-abiding citizens looking to exercise their Second Amendment rights," Ricketts wrote. "At worst, they are a barrier to those looking to protect themselves, such as victims of stalking or harassment. Under constitutional carry, law-abiding Nebraskans who have already undergone the background check needed to purchase a handgun would not have to wait for a permit to carry concealed."
Ricketts noted that many of the Cornhusker State's neighbors have already passed Constitutional Carry in their states, including Iowa, Kansas, South Dakota, Missouri, and Wyoming. Over 120 million Americans live under Constitutional Carry nationwide.
Ricketts encouraged Nebraskans to find out how their senators voted on LB 773.
Why Were There Three Non-Voting Republicans?
While Ricketts blamed the nine Democrats for blocking the bill, he omitted the fact that there were three Republicans who COULD Have voted for this bill but chose NOT to vote on it that day.
Those three Republicans are the reason this bill didn't pass, ultimately. After all, gun owners didn't vote anti-gun Democrats into office in the hopes that they would pass good gun bills.
They sent Republicans to the Capitol to do the job — and instead just enough Republicans sat out this crucial vote to lose the whole fight.
We're long past believing that was accidental — or that Ricketts intentionally laid all the blame on the nine Democrats in a perfect little sound bite.
Will gun owners let them get away with that at election time?
National Momentum: Who Is Next?
Nebraska, Florida, and Maryland remain the only states with Republican governors that do not have constitutional carry.
Governor Ron DeSantis is pushing hard for the Florida legislature to pass constitutional carry in the Sunshine State.
According to News 4 JAX, the votes might not yet be there among the Republican-controlled legislature to give it.
In a Tuesday appearance at Fort Myers Beach, DeSantis wouldn't commit to a timeline for passage.
"In terms of when? You know, I don't know. The Legislature has got to pass it," DeSantis said, according to News 4 JAX. "I mean, I've said for years I would sign. I don't know if they have the votes now. But I know that this is something that many people are going to be looking at as we go forward into this next election."
When reached for a comment, Aaron Dorr, Executive Director of the American Firearms Association, credited gun owners' persistence with the advancement of Constitutional Carry across the country:
These Republican governors are finally getting the message from gun owners: we're done being stalled and patted on the head and told to go sit down," Dorr said. "Gun owners have turned the tables and told their Republican governors to deliver on their promises to gun owners or gun owners will leave them high and dry at election time."
Our Take
The work is far from over, but gun owners should take a moment to pat themselves on the back! Just fifteen years ago, most of us wouldn't have believed that so many states would have Constitutional Carry laws on the books.

What happened? Has the country all shifted to the right on guns? Not hardly. Instead, gun owners have realized that if they want their gun rights, they're going to have to stand up and fight for them.
We've said it before and we'll say it again: mobilized, motivated gun owners are one of the most powerful political forces in the country.
Keep up the pressure, gun owners: We are WINNING!