TACOMA, Wash.- A hotel employee shot a 45-year-old man after he threatened her co-workers with a knife around 11:45 p.m. Tuesday at the Quality Inn and Suites Tacoma, in the 8800 block of South Hosmer Street.
KOMO News reported that the 32-year-old woman shot the man in the left abdomen while he was outside of the hotel, after which she called 911 to alert police. The man was taken to a hospital with non-life-threatening injuries and was booked on three counts of assault.
Police told the Lakewood-JBLM, WA. Patch.com website that the man was not a hotel guest and had been asked to leave the hotel on a previous occasion.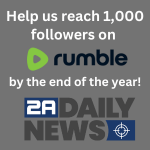 After being asked to leave again on Tuesday, the man allegedly pulled out a knife and attempted to attack employees. This is when the young woman pulled out her weapon and stopped the threat.
The Quality Inn and Suites Tacoma, where the shooting of the knife-wielding man took place, is located in a cluster of budget hotels on South Hosmer Street that, according to Fox 13 Seattle, has become an "outsized crime magnet for the city."
Criminal Activity Goes Unchecked
Between 2014 and December 2021, over 1,300 crimes took place on South Hosmer Street between 84th and 90th Streets, including kidnapping, sex trafficking, drug dealing, robberies, assaults, and murders.
Law enforcement experts point to two features that make South Hosmer Street a convenient place to do crime: easy access from Interstate 5 and a choice of seven different motels, inns, and travel lodges," Fox 13 Seattle reported.
The article drew attention to a similar situation in a cluster of hotels along Tukwila International Boulevard in Tukwila, Washington, that served as a focal point of violent crime, prostitution, and drug dealing. The Tukwila Police Department launched the enforcement operation "Taking Back Our Boulevard," which targeted a handful of hotels along a 1.5-mile stretch of Tukwila International Boulevard. Among the top problem locations were three hotels.
"A year-long investigation by local and federal officers showed that 'the three motels – all owned by members of the same family – were used by the owners to facilitate and profit from criminal activity.
The investigation resulted in the arrests of the owners and the federal seizure of the motels …. One year after the motels were shuttered, data showed a 12% drop in violent crime city-wide and a 40% drop in violent crime along the TIB corridor,'" Fox 13 Seattle reported.
Progressive Tacoma Mayor Victoria Woodards told Fox 13 Seattle that there is nothing on the docket concerning a similar plan for South Hosmer Street.
"Doesn't mean that we wouldn't consider, but what we currently use is our nuisance code. And through our nuisance code and code enforcement, we have gone in and made changes. In some cases, shut motels down for a period of time," Woodards told Fox 13 Seattle.
OUR TAKE
Who could possibly blame the hotel employee for carrying a gun when she works in the middle of a what's essentially a crime-riddled warzone?
This hotel employee spared her co-workers from possible serious injury and maybe even death by her quick-thinking actions. We hope she doesn't become the victim of some ridiculous corporate policy that would see her fired because of her bravery in saving her fellow employees.
Secondly, gun owners across the country will remember that earlier this spring, Washington's Governor Inslee signed three new gun control bills into law, including a ban on "high-capacity" magazines that hold more than ten rounds of ammunition.
Of course, nobody wants to talk about the crime rate in Seattle, Tacoma or any of these leftist-controlled cities!
Instead, their Democrat governor will 'crack down' on crime by passing more gun control — while ignoring the crime which his own leftist policies have created.
Washington doesn't need more gun control. They have a crime problem because their leftist policies have created a 'catch-and-release' situation with their home-grown criminal class.
While coddling the CHAZ/CHAP insurrectionists and letting the rioting looters off the hook, they keep passing gun control.
What a joke.