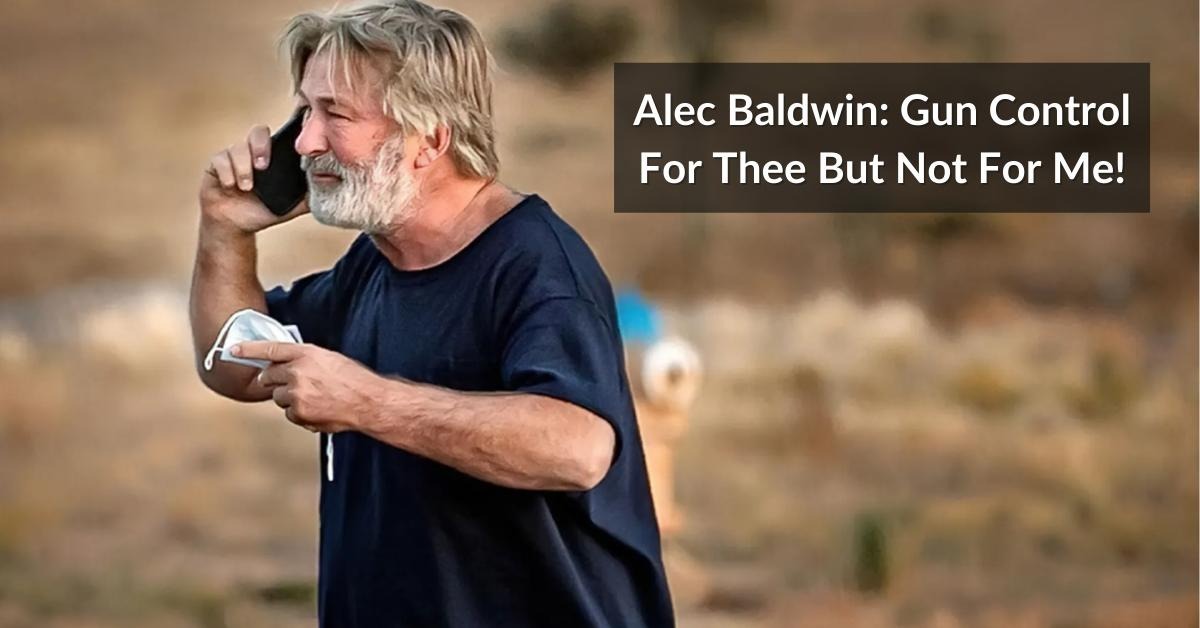 It's not often you'll hear somebody who was so sloppy with a gun that they accidentally shot and killed somebody lecture you on gun safety….but with Hollywood elitists, anything goes!
Actor Alec Baldwin raised several eyebrows by calling for stricter gun control laws in a social media post on his Instagram account.
Baldwin's comments were especially strange considering he's still under investigation for his alleged shooting of a cinematographer on the set of a movie called "Rust" on October 21st, 2021.
Baldwin was co-producer of the film, and after the shooting, it came out that basic gun safety rules weren't being followed on set. Experts claimed that the protocols in place did not meet industry standards. 
But Baldwin took to his Instagram page to call for more gun control laws, saying:
"We regulate many things in this country in the interest of public safety," Baldwin wrote in his post. "Drugs, cars, professional licenses, etc. We need gun control reform, Now." 

Baldwin's post showed a video of a South Carolina Dixie Youth league baseball game being interrupted by the sound of gunshots being discharged from a nearby parking lot at about 8:45 p.m. Monday, April 25th at Pepperhill Park in North Charleston, according to Fox News. 
"Witnesses at the park said they had seen a group of teenagers pull into the parking lot in separate cars and begin fist fighting. It was then that they began shooting at each other and fled," Fox News reported, adding that authorities don't believe the incident had anything to do with the baseball game.
"The very childhoods of our kids interrupted by this insanity," Baldwin lamented.
Recently, the actor has received much attention due to his interruption of the life of 42-year-old cinematographer Halyna Hutchins after the then-63-year-old actor inadvertently fired a prop gun that killed Hutchins and injured director Joel Souza, who was standing only standing four feet away, according to a February article on Fox News.
Baldwin is still under investigation regarding Hutchins's death, and maintains that he did not pull the trigger of the gun. He was recently named a defendant in a wrongful death suit by Hutchins' family. 
Brian Panish, the lead attorney for Hutchins's husband, alleged that Baldwin not only did not offer to help Hutchins after she doubled over in pain after being shot but that the actor had refused weapons training.
Fox News reported that lawyers for Hutchins' family released a 10-minute digital clip alleging that Baldwin and others involved in the film "failed to meet at least 15 industry standards for safe weapons handling — including failing to treat the gun at all times as if it were loaded." 
In the days before Hutchins' death, Lane Luper, a cameraman who walked off the job, texted a unit production manager with concerns about the safety of the production.
"We've now had 3 accidental discharges," Luper texted, according to Fox News. "This is super unsafe."

Fox News reported that Katherine "Row" Walters, the movie's unit production manager, allegedly texted back, "Accidental discharge on the firearms? Awesome."
The investigation into the alleged shooting continues.
OUR TAKE
It's laughable that Alec Baldwin thinks he's in a position to lecture anybody, anywhere about gun safety. But to go so far as calling for more gun control laws — when he and his fellow producers refused to practice basic gun safety themselves?!
To err is human of course, but reports revealed a movie set with a brazen disregard for gun safety that any responsible gun owner would find appalling. 
Despite at least three alleged accidental discharges and failing to meet the industry standards for gun safety, Baldwin obliviously still thinks he has a leg to stand on as an authoritative voice on gun control issues.
Hollywood leftists really are completely out of touch.