Apparently, it's good to be the Governor of New York City.
The elites who constantly push gun control don't ever seem to have an issue using taxpayer-funded security detail to protect themselves, with firearms, of course. Some of these elites also use government-funded security to protect their family members as well.
This morning, news is breaking that New York City Mayor Bill de Blasio has been allegedly misusing his security detail to get his son to Yale. The NBC4 report also states that when de Blasio had his Executive Security take his son to Yale, de Blasio wasn't even with them.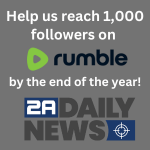 What's more, de Blasio also allegedly used his Executive Security detail to help his daughter move out of her apartment. The move took place in the cover of night.
So, firearms and security are used by the New York City mayor to protect his children, but you aren't allowed to have them to protect yourself and your children?
De Blasio's Deputy Press Secretary, Olivia Lapeyrolerie, said the following as a response on Twitter to the story:
This is false. The Mayor didn't order protection, NYPD did. End of story."
Who is the head of New York City again, and who would have authority over the NYPD? Lapeyrolerie also says that NYPD ordered the protection due to threats against de Blasio's son.
No word yet on why security detail was allegedly needed when de Blasio's daughter was moved out of her apartment.