Sometimes gun owners are in the right place at the right time.
That is what happened with a gun owner in Syracuse, New York who shot and killed a man that had opened fire on other citizens. The criminal, Demetrius Jackson, had a 9MM handgun and was pronounced dead at the scene according to news station LocalSYR.
Jackson was allegedly pointing the gun at several individuals and making threats at them when he decided to open fire on the individuals.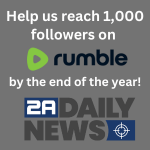 That's when a gun owner, who District Attorney William Fitzpatrick said owned the firearm legally, pulled out his own gun and returned fire, killing Jackson. Fitzpatrick also said that it is likely the gun owner saved multiple lives by having his own gun to defend himself.
Syracuse police say they are still investigating the incident. Additionally, police say they are investigating what may be retaliatory damage to property in the area and threats against the man who saved the lives of innocent people as well as the people in that vicinity who Jackson was shooting at.
It is unclear at this time if the man who shot Jackson will face any charges but it seems unlikely.