Tik Tok is notorious for being a platform that the younger generation does stupid trends, and the latest one might end up getting someone killed.
Forget eating Tide Pods and breaking toilets in school bathrooms. Instead, the latest trend involves potential trespassing and breaking and entering charges.
Some lunatic on Tik Tok decided to start a trend where a person films themself playing the Kesha song ironically titled, "Die Young." When the lyrics "I hear your heartbeat to the beat of the drum" play, you kick or slam your fist violently on a stranger's door.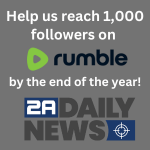 Some videos show doors being broken open during the challenge.
Gee, what could possibly go wrong with violently kicking someone's door in the middle of the night?
What happens when a homeowner thinks that someone is breaking into their house and you are kicking the door as hard as you can? It's what most homeowners would think is happening.
Luckily for most of these kids, they run away after kicking the door. What happens if they fall down or slip on the ice trying to run away?
Do you think when that gun owner opens the door, they will know it's some idiot doing a Tik Tok trend?
What if someone is coming home and sees someone kicking their door violently, knowing that other family members are on the other side of that door? Make no mistake that deadly force will be justified in that scenario.
For those who haven't seen this new trend, you can see what it looks like in the video here:
Initially, most of the videos were seen taking place in what appear to be college dorm rooms. Perhaps in those locations, nothing happens.
However, some are moving this idiotic trend to individual homes, and that's where we fear it could end tragically. Police are already warning citizens participating in these acts that criminal charges could be filed and deadly force may be used if the homeowner believes that someone is trying to break in.
What do you think of this trend? Is it dangerous or just some stupid kids having fun?
Let us know in the comments below.