A woman in Rockford, Illinois, has been suspended by Subway for defending herself from an armed robber.
The woman, Araceli Sotelo, was being robbed at gunpoint as the lone employee in the restaurant at the time. The robber was demanding money Sotelo says she did not have.
The man, who has not yet been identified or found by police, was smaller than Sotelo. Sotelo says she used her size to help fight the man off in the scuffle.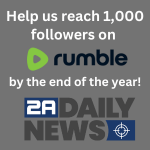 Here is what Sotelo said according to Fox 8 in Illinois,
While Sotelo was fighting the man off, his firearm came out of his hand and landed on the ground.
Sotelo seized the opportunity and picked up the gun. She then began hitting the robber in the head with his own firearm.
When the robber lost his gun, his demeanor quickly changed, and he began begging for his own belongings back. Sotelo says the man fled but did take her purse with him. Her phone was also broken during the struggle.
Video footage of the incident shows the heroic struggle Sotelo had with the robber. Take a look:
Typically, employees working for these big corporations are suspended because they bring their own firearms to work. In addition, most major corporations have policies that prohibit employees from defending themselves.
Sadly, Sotelo is being fired for simply grabbing the robber's firearm so he couldn't shoot her with it.
Sotelo could have easily defended herself with the robber's firearm, but she did not and was still suspended. What justification is Subway giving for an employee protecting herself and the store?
Since the suspension happened, Sotelo's mom has launched a Go Fund Me to raise money for a legal defense which has already raised more than $15,000 to help her daughter.
What do you think of Subway's decision to suspend Sotelo, and do you think she did the right thing in fighting back? Let us know in the comments below.