CHICAGO- A suspect is in custody after a mass shooting that police say occurred just after 10:40 p.m. Thursday at the McDonald's on the Near North Side near Chicago Avenue and State Street. The incident was just a few blocks west of the famous Chicago Water Tower and Magnificent Mile district, CBS 2 Chicago reported.
Two people were killed, and seven people were wounded, according to police.
"One witness says the incident began when a large group of young people got into a fight outside the restaurant, when a car pulled up and someone inside the vehicle started shooting, hitting multiple people, NBC 5 reported. "Those reports are not confirmed by police."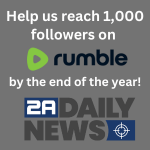 Police told CBS 2 Chicago that 21 shots were fired into the crowd resulting in several victims being shot multiple times.
"The man, who has a criminal record, was captured on video surveillance opening fire into the crowd and then running down the stairs into the subway station," CBS 2 Chicago reported. "He ran into the subway tunnel with the gun, a Glock with an extended magazine, before being arrested."
The chaos continued after the shootings ceased as fistfights broke out among the crowd even as police were investigating and paramedics were attempting to treat victims at the scene. Officers had to step in to break up the fights among the groups.
"The chaotic scene quickly spilled onto the nearby Red Line as police searched for a suspect and a gun, stopping at least one train and evacuating passengers," WBBM Newsradio reported. "CTA officials were stationed near the subway entrance as police combed the tracks. A person suffered burns when she apparently fell against the third rail, according to fire officials. She was stabilized at Stroger Hospital."
One of the victims was identified as 31-year-old Anthony Allen, who died at Stroger Hospital about an hour after being shot in the lower back, according to CBS 2 Chicago. The other victim, whose name was not released, died at Northwestern Hospital from being shot in the chest.
Officials told WBBM Newsradio that the eight wounded people were taken to various hospitals where they were listed from serious to critical condition, with at least one of them needing emergency surgery. Their ages were not released.
Chicago's staunchly pro-gun control mayor Lori Lightfoot denounced the mass shooting in a statement released Friday morning.
…it is simply awful, and unacceptable that once again, another tragedy occurs because firearms are in the hands of people who simply do not care about themselves or the value of another's life," the mayor said in the statement. "Our police department is hard at work to make sure those responsible for last night's incident are held accountable, for the safety and well-being of us all."
On her Twitter account, CBS 2 Chicago's Marissa Parra shared a picture of pools of human blood and emergency equipment still present in daylight at McDonald's, where the shooting occurred.
"I wouldn't normally show something so graphic… but I'm dumbfounded this is still here 8 hours later," she posted. "Worst part is people barely seem to notice walking past to work."
OUR TAKE
As of the time of this writing, there was no word on whether President Biden and the First Lady will be visiting the Windy City to mourn with the victims' families.
If his efforts were needed in Buffalo, then indeed, they would be required in Lori Lightfoot's Chicago, which has been rocked in recent weeks by the shocking robbery and shooting of a 23-year-old DePaul University Student in the affluent Lincoln Park neighborhood and the murder of a 16-year-old at "The Bean" in the popular tourist destination in Lincoln Park.
Maybe certain mass shootings are more important than others?
We can only assume that the Biden Administration will be devoting more attention to Buffalo. It fits in with the narrative they need to gain the momentum they will need to enact their radical, unconstitutional gun-control agendas into law.
Mayor Lightfoot's statement with her complaints about firearms being in the hands of people who do not care about other people's lives is appalling.
Thanks to her restrictive gun control policies, violent criminals are pretty much the only people who have them in her town.
And as these thugs apply their trade in popular tourist spots that aren't known for gun violence (Millennium Park, Lincoln Park, near the Magnificent Mile), one wonders how many more bodies and how much more city revenue will be lost as tourists avoid her city before she'll revisit her failed polices.
We aren't holding our breath. Radical leftists aren't known for their self-awareness.