The bloodbath in Chicago for 2021 is coming close to an end but not before the final weekend of the year saw 22 people get shot, two fatally.
The city has surpassed over 800 homicides in 2021, a feat that the worthless mayor of Chicago, Lori Lightfoot, was trying to avoid. But, when you are focused on "police reform" and Covid lockdowns, you tend to lose focus on what's important.
Crime was out of control this year, and with days remaining before 2022 begins, there is no doubt Democrats are beginning to question their attitude towards crime this year and from last year when they supported the nationwide rioting that took place and failed to denounce it.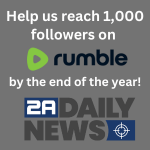 Chicago has seen its largest homicide count in decades. Unfortunately, other cities have also seen massive increases in their homicide counts.
This weekend in Chicago was no different than the other bloody weekends, and an 11-year-old was also one of the victims.
According to ABC 7, here is what happened when the 11-year-old was shot,
In nonfatal attacks, a person was in custody after an 11-year-old boy was among two people shot Friday night inside an apartment in Jefferson Park. About 11:35 p.m., the boy and a 25-year-old man were inside a second floor apartment in the 5400-block of North Austin Avenue when a known male opened fire, striking both of them in the right leg, police said."
Thankfully the boy is in good condition and expected to recover.
Sadly, that is life in Chicago right now and probably well into the future as long as Democrats continue to degrade police and as the root causes of these issues don't go unchanged.