Toledo and Columbus, Ohio, have seen a massive surge in crime in 2021.
Both cities made the unfortunate list of cities with a massive increase in murders. Toledo has seen a 63% increase in murders, and Columbus has seen a 121% increase in murders.
When George Floyd was killed in June of 2020, it set off a series of riots across the United States, which destroyed billions of dollars in property and killed a number of people.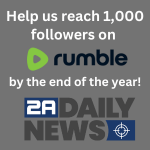 Floyd's death led to calls for police reform. But, of course, leftist mayors across the country were more than happy to attack their police departments and turn soft on crime.
As a result of these leftist policies, crime has surged in major Democrat-controlled cities, and murders, in particular, have sky-rocketed.
In Columbus, police agreed to cut down on arrests for non-violent misdemeanor offenses not long after Floyd's death. Unfortunately, this is a similar approach to what San Francisco did. It only increased the crime rate since the criminals knew they weren't in danger of being arrested.
Columbus City Attorney Zach Kelin told ABC 6 at the time,
We have been called to fundamentally rethink our criminal justice system – through big, systemic reforms and in day-to-day changes.
Additionally, chokeholds were also banned statewide. The chokehold done properly is a safe, effective, and time-proven method to gain control over a criminal who is fighting and resisting arrest.
The surges and attacks on police departments led to massive retirements from the Columbus PD.
In 2020, there were a total of 81 retirements, according to WOSU, which was double the number of retirements in the previous five years. At the time of the WOSU article in June of 2021, there were already 71 retirements.
Toledo has not fared better in how it approached policing as it too went far left in trying to be as woke as possible.
Soon after the Floyd killing, the leftist mayor and city council decided to do a police reform committee. According to ABC 13, here are the reforms the committee considered,
Among those reforms are the relocation of the TPD internal affairs division to a neutral location outside the Safety Building (which will be complete by August 3rd); the banning of military-style camouflage; the passage of a number of ordinances to codify certain police practices, including the banning of chokeholds; compelling officers to intervene if they believe a fellow officer is engaged in unlawful use of force; a requirement that all officers hand out business cards with pertinent information of reporting potential police wrongdoing; and an increase in transparency between the department and the public, including publishing the TPD manual and national grade cards, along with a plan to make TPD training available for public viewing when the next Police Academy class begins.
Again, banning chokeholds and making police officers hand out cards to report on themselves are likely the types of policies that get officers to leave the department.
The leftist mayors and city councils in Toledo and Columbus had better learn their lesson quickly. Additionally, the citizens in these cities better start voting for candidates with better policies toward fighting crime.
With Biden and Congress both pushing even weaker and soft crime-fighting policies, the surge in crime likely will not get any better.
While Toledo and Columbus are having record years in crime, don't forget about Cleveland which has always had a massive gang problem and is also controlled by a leftist mayor and city council. They are just so used to the crime that they didn't make the list of "record-breaking" crime-ridden cities.
If you haven't already done so, be sure to take our poll on who you would vote for if the 2024 Republican Primary were held today!