Congresswoman Mary Gay Scanlon (D-PA), a leading advocate for "police reform," was carjacked in Philadelphia.
Seriously, you can't make this stuff up. We've covered how bad crime has gotten this year, especially in large Democrat-controlled cities.
Here is what Scanlon's office told the press after the carjacking: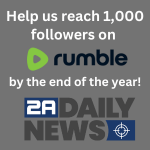 Wednesday afternoon, at around 2:45 p.m., Congresswoman Scanlon was carjacked at gunpoint in FDR Park following a meeting at that location," Scanlon's office said in a statement."
So she was carjacked in broad daylight? Typically, this type of crime happens very late at night when someone ends up in a part of Philly they shouldn't be in because gangs control the area.
But crime is so bad in Philadelphia that they are carjacking people during the middle of the day at gunpoint, yikes.
According to Fox News, the criminals also stole Scanlon's phone and purse as well and said that there has been an 80% increase in carjackings in the city of "brotherly love" this year.
The irony is that once Scanlon was carjacked, what did she do? She called the police, of course, and later publicly thanked them for their help.
But it wasn't long ago that Scanlon was on Twitter, shortly after George Floyd's death, talking about police reforms. Here is what she said,
We have seen too many lives taken and communities devastated by police brutality and racial profiling. Action is long overdue. @HouseDemocrats are fighting for REAL reform in our country's police departments. #JusticeInPolicing"
Scanlon is one of over 100 elected officials in Congress who want to replace police with mental health workers. Wonder if a social worker would have been able to talk the carjackers down from robbing her?
Police described the suspects as two young black males between the ages of 20 and 30.