One can only imagine what it is like to live in a city where kids are gunned down every weekend in non-stop violence, most of it gang-related.
Sadly, the violence took three more lives over the weekend. Caught in the mayhem was the death of an 8-year-old girl who was walking with her guardian.
Police say the man she was walking with was the intended target, but the little girl was shot in the head and the man critically wounded.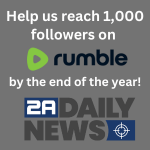 You would think these gang members would have some sort of standard, rather than shooting at their intended target with a child right next to him. But, unfortunately, the gang violence in Chicago has people of all races, sexes, and ages being hit by gunfire.
According to NBC News in Chicago, two other people were killed when one man was shot standing on the street, and the other died when an SUV pulled up next to his vehicle and was hit by numerous bullets.
On top of the death of three more Chicago citizens, 13 other people were injured, including a 17-year-old teenager.