LAGUNA WOODS, Calif. – A group of churchgoers deserves praise for their successful effort to stop a shooter from continuing a mass shooting by hog-tying him with extension cords at their church Sunday.
The shootings left one person dead, and five injured just before 1:30 p.m. Sunday at the Geneva Presbyterian Church off El Toro Road in Laguna Woods in Orange County, according to ABC 7 Eyewitness News.
According to NBC Los Angeles, the shootings occurred during a luncheon being held in honor of a former pastor of the Taiwanese congregation.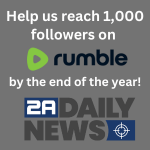 The Presbytery of Los Rancho reported that between 30 and 40 people were in the church at the church time.
The Orange County Sheriff's Department said that the churchgoers successfully stopped the shooter, whom police sources told NBC Los Angeles was a "male of Asian descent in his 60s."
"We believe a group of churchgoers detained him, and hogtied his legs with an extension cord, and confiscated at least two weapons from him," Orange County Undersheriff Jeff Hallock said in a press conference.
"That group of churchgoers displayed what we believe is exceptional heroism and bravery in intervening to stop the suspect. They undoubtedly prevented additional injuries and fatalities."
The suspect, whose name has not been released, was not injured. Officials do not believe he lives in the area. According to Hallock, it was unclear what the suspect's motive was or whether he had an intended target. KTLA5 news reported that officials are unsure if it was a hate-related incident.
Meanwhile, the names of the victims are still unknown.
"None of the victims have been publicly identified," ABC 7 Eyewitness News reported. "However, officials said five of the victims, four men and one woman, all of Asian descent, are all between the ages of 66 and 92. All of them were taken to local hospitals."
The men are ages 66, 75, 82 and 92, and the woman is 86 years old, the Sheriff's Department said.
A tweet from the Orange County Sheriff stated that four of the victims were critically wounded, and one suffered minor injuries.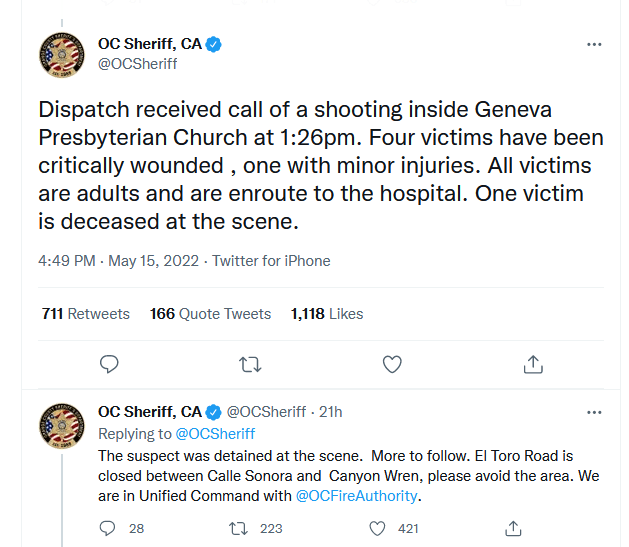 Early Monday, it was confirmed that one victim had passed away. Their name has not been released pending the notification of family.
Authorities told reporters that two guns were recovered from the scene, both of which had serial numbers according to NBC Los Angeles.
California has the strictest gun control laws in the country, scoring an "A" in gun strength laws with a first-place ranking according to the Annual Gun Law Scorecard put out by the Giffords Law Center to Prevent Gun Violence.
OUR TAKE
The good people at this church showed amazing courage in detaining an armed man — while unarmed themselves, from what we can gather from the various news sources.

Their legislators have worked for decades to disarm them, infringing on their God-given Second Amendment rights at every turn.
But as usual, all of their gun laws did not stop this deranged shooter from carrying out his evil plans.

Carry every day, folks.