Some sheriffs in American have become famous over the years for a variety of reasons.
For instance, Sheriff Joe Arpaio was famous for how he treated criminals under his care. Arpaio would make some of them wear pink clothing to humiliate them while they did clean-up work.
Another American Sheriff, Grady Judd, is becoming famous for his clever quips.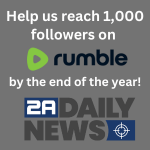 Judd, a sheriff in Polk County Florida, has been dealing with an increased murder rate in the county.
Judd decided to give advice to the criminal community. His stern message is one that criminals everywhere should heed.
Watch the video for yourself and be sure to "Follow" us on Rumble:
Of course, criminals are unlikely to listen but what a plug for 7UP and MoonPies!
At the end of the day, only you can be your first line of defense. Buy a gun, train with it, and carry it every day.
What did you think of Judd's advice?
Let us know in the comments below.