Gun owners are used to fighting Red Flag Gun Seizures pushed by Democrats and gun control groups.
Red Flag laws have been passed across the country in numerous states and have become a major fight in recent years between 2nd Amendment advocates and anti-2nd Amendment groups. However, the Red Flag Gun Seizure fight has largely been kept at the state level, until now.
Last week, most House Democrats and 135 House Republicans in the passed Red Flag Gun Seizures for U.S. military members through the National Defense Authorization Act or HR 4350.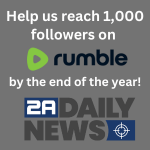 While gun owners are used to fighting Democrats on the Red Flag issue, they typically don't have to fight Republicans to stop it. Yes, Sen. Marco Rubio (R-FL), Sen. Lindsey Graham (R-SC), and Rep. Dan Crenshaw (R-TX) are a few Republicans who have supported or expressed support for Red Flag laws in the past, but 135 House Republicans supporting Red Flag laws is shocking to many gun owners.
Gun owners across the country are furious at the results of the vote and are lashing out at House Republicans.
Seth Rosquist, Chairman for the Idaho Second Amendment Alliance, blasted Rep. Mike Simpson (R-ID) for voting for Red Flag laws.
Here is what Rosquist told 2ADN,
If there is one thing Idaho's gun owners will not tolerate, it is a weak-kneed and spineless Republican like Mike Simpson.

The ISAA strongly opposes any and all forms of Red Flag Gun Seizures and we will do everything we can to expose Simpson's anti-2nd Amendment vote. Simpsom should immediately apologize to Idahoans for what he has done!"
So, what's contained in HR 4350 that is pushing Red Flag laws on our military?
On pages 293 to 297, you will find the provisions of the law the pertaining to the Red Flag Seizure and disarmament. The requirements are listed there, despite Crenshaw and others saying the measure doesn't exist in the bill.
What's more, 2ADN has learned that the NRA and Heritage Foundation allegedly passed off on the vote.
2ADN spoke with Aaron Dorr from the American Firearms Association about the passage of the bill. Here is what Dorr told us,
It's bad enough that moderate Republicans like Dan Crenshaw have stabbed gun owners in the back, but we have also learned that the NRA and Heritage Foundation signed off on this traitorous vote. It's no wonder these organizations are tanking when they pretend to be one thing publicly, but then pull stunts like this behind the scenes."
2ADN reached out to the NRA's online media inquire site to get a comment but we have not yet heard back from them.
The NRA has been criticized in the past for their support of Red Flag Gun Seizures. In a video, now made "private" on YouTube, the NRA announced their support for Red Flag Gun Seizures with certain conditions. Despite the privacy setting, most major media outlets wrote stories about the NRA's stance at the time the video was released.
While the House may have passed the HR 4350, the bill must make it through the U.S. Senate which has proven more difficult when it comes to gun control.
Dorr told 2ADN that gun owners must stand against HR 4350 and tell their Senators to oppose the bill. Here is what Dorr said:
While spineless Republicans in the House may have voted for Red Flag Gun Seizures, we can't give up the fight. We have to push the Senate to do the right thing and let them know that if Republicans want to take back the majority in either chamber in 2022, stabbing gun owners in the back isn't going to get them there.

Gun owners need to reach out to their Senators immediately to tell them to oppose HR 4350!"
What do you think of the vote on HR 4350? Did Republicans stab gun owners in the back once again?
Let us know in the comments below.