Welcome to the 2nd Amendment Daily News site!
We are excited and honored to have you as a reader of our pro-2nd Amendment content. Our goal is to bring you new, exciting, and in-depth coverage of all things related to the 2nd Amendment and firearms in general.
Something that makes our site unique is that our Editor, Greg Pruett, is not just someone who writes the news but has fought in several state capitols for the 2nd Amendment. He has been on the front lines and knows what is at stake and how gun owners can fight back to protect the right to keep and bear arms.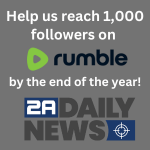 Greg started the Idaho Second Amendment Alliance with the goal of passing Constitutional Carry. Finally, after a four-year battle in Boise, Idahoans got Constitutional Carry!
Since then, Greg has helped fight for gun owners in Wisconsin, Washington, and anywhere else his help and advice are needed.
Greg even went to Washington D.C. with other 2nd Amendment activists during the Trump administration to meet with White House staff and lawmakers to encourage them not to pass Red Flag gun confiscation orders that were being considered at the time.
So, the content you are getting at 2ADN is coming from people who really understand this fight and have gotten their noses bloodied in the process of defending the 2nd Amendment.
Please sign up for our newsletter today and make sure you are on our email list just in case social media giants ban our articles!
Sign up here: 2ADailyNews.com/newsletter