David Chipman has been on the mind of gun owners for months now.
Chipman is President Joe Biden's nominee to lead the Bureau of Alcohol, Tobacco, and Firearms. Chipman has faced a fierce attack from gun owners, gun groups, Senate Republicans, and even weak support among Senate Democrats.
Several mainstream media sources are now saying that Chipman's name will be removed from consideration to lead the ATF, bringing a big sigh of relief to gun owners.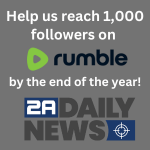 Chipman is most known for his recent work as an adviser to the Gabby Giffords gun control group.
But it wasn't just Chipman's work for Giffords that had gun owners concerned. Chipman has also made several past statements on firearms that had gun owners worried.
One statement that definitely caught the attention of gun owners was Chipman's response to Senator Ted Cruz (R-Texas), who had asked Chipman about the AR-15. Here is what Chipman told Cruz,
The AR-15 is arguably the most popular firearm in America. So Chipman, Biden, and most Democrats have had their sights set on banning the AR-15 and other falsely labeled "assault weapons" for years now.
But Chipman's statement on the AR-15 was not the only concerning statement he had made.
Senator Mike Lee (R-Utah) pressed Chipman on a statement he made on an "Ask Me Anything" session on Reddit. Chipman told the audience,
Gun owners took major issue with this statement saying that Chipman was pushing "Minority Report" type policies.
Thankfully for gun owners, Chipman is no longer on the table as a possible nominee.
The question now becomes, who replaces Chipman? Certainly, the Democrats and gun control advocates will push yet another major gun control advocate to be the new ATF nominee.
What did you think of David Chipman, and what do you think of his nomination finally being withdrawn?
Let us know in the comments below!