Over 150 people were killed in Harris County, Texas, by criminals who had bonded out of jail.
The report comes from Fox 26 and paints a grim picture of what happens in areas where prosecutors and judges go lenient on bail with criminals who pose a serious threat to the public. The report states that some of them had been charged with murder!
The report states that more than 50,000 criminals were the beneficiaries of Democrat-judges who followed a "catch and release" program.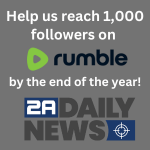 Democrats have been soft on crime and are getting even weaker.
Earlier this year, we saw a criminal get out on bond and then plow into a crowd of people in Wisconsin because he didn't like their race. The prosecutor said afterward they wished they hadn't helped let him bond out.
Sadly, the idiocy of these Democrat judges isn't contained to leftist states like New York and California.
Harris County is, of course, home to Houston, Texas. Unfortunately, Houston has seen a 22% increase in murders with more than 80 additional murders compared to last year.
Take in the entire county, and the situation is even bleaker.
Hopefully, in 2022 judges across the country will be harsher on criminals, especially violent offenders. But, with Democrats running the largest cities in America, don't count on it.
Americans are better off exercising their right to keep and bear arms and not relying on anyone else for their self-defense.