If there is one thing that makes gun owners laugh more than anything, it is when police departments hold so-called "gun buybacks.
Gun buybacks are an attempt by a city to "help stop gun control." But, of course, the buybacks don't do anything of value and are usually an opportunity for someone to make a fake gun and get some money out of it.
More often than not, what is turned in are old, broken guns or even BB guns.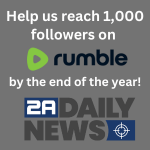 The city loses money and then destroys the "firearms" that are turned in. Why police departments continue to do these buybacks is unfathomable.
That isn't stopping the Columbus Ohio Police Department from holding a buyback of their own this weekend.
As reported by NBC 4, the gun buyback will take place on Saturday from 10 a.m. to 2 p.m. The location for the event will be the Columbus Fire Training academy.
For those who turn in their guns, $25 gift cards will be given out by the police. However, police state they will not accept BB guns for this buyback.
One pro-2nd Amendment group in Ohio decided to troll the Columbus Police Department and told their supporters that they should bring cash and, if they see anything of value, make an offer better than what the police are offering.
2nd Amendment Daily News spoke with Chris Dorr, Executive Director of Ohio Gun Owners, about the buyback. Here is what Dorr told 2ADN:
This is a great opportunity for us gun owners to use the free market and see if we can score a great firearm at a fabulous discount.

For those who are willing to give away their firearms and in turn their freedoms, for a measly $25 gift card, you should be ashamed of yourselves. But if you are going to do it anyway, if you've got a decent firearm, we can likely double what the Columbus Police Department is going to give you!

Why anyone would willingly give up their firearms at a time when governments across the world are trampling on the freedoms of their citizens is beyond comprehension. Anyone who turns in their guns at these buybacks deserves to be shamed."
What do you think of gun buybacks?
Do gun buybacks decrease crime? Let us know in the comments below!