PACE, Fla. – A Florida sheriff encouraged residents in his county to shoot home invaders during a press conference announcing the arrest of a career criminal last Thursday.
Santa Rosa County Sheriff Bob Johnson made his comments in a press conference held after the arrest of Brandon Joseph Harris, 32, of Milton, FL.
Harris was named the suspect responsible for a spree of residential break-ins in the Santa Villa subdivision in Pace, FL according to WHIO-TV.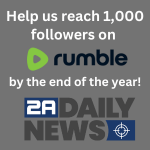 Sheriff Johnson told reporters that Harris, who had multiple active warrants, had broken into at least four homes in the subdivision.
When police arrived and gave chase, Harris broke into several more homes and backyards while attempting to flee from Santa Rosa deputies.
According to the Pensacola News Journal, Harris was charged with "one count of attempted burglary with assault, one count of resisting arrest without violence, two counts of burglary to an occupied dwelling, one count of criminal mischief, one count of attempted larceny, and one count of burglary to an unoccupied dwelling."
Johnson said one of the homeowners, whose property was allegedly descended upon by Harris, shot at him, but missed.
"We don't know what homeowner- which homeowner- shot at him. I guess they think they did something wrong, which they did not," Johnson said during the press conference as reported by WKRG-TV.

"If somebody's breaking into your home, you're more than welcome to shoot them in Santa Rosa County, and we prefer that you do. Whoever that was, you're not in trouble. Come see us. We have a gun safety class we put on every other Saturday. If you take that, you'll shoot a lot better, and hopefully, you'll save taxpayers money."
The Pensacola News Journal reported that Harris had pre-existing charges of aggravated assault, battery and violation of probation and is registered as a high-risk sex offender.
"You hear me talk about frequent flyers all the time," Johnson said. "Our first interaction with this individual came when he was 13 years old. Since then, he's had like 17 arrests. We sent him to prison for six and a half years for home invasion and he just can't get the picture that crime doesn't pay."
OUR TAKE:
No doubt the anti-gun crowd hated Sheriff Johnson's common sense approach to the problem of violent crime, but then, they're also the crowd that is attempting to pass radical bail reform bills.
These bills would release thousands of violent criminals onto the streets — all while dozens of radical Soros-funded prosecutors decline to charge thousands more criminals after the police have done all the work to arrest them!
Perhaps there is no better explanation of why millions of Americans have bought a gun for the first time than our broken criminal justice system that allows 'frequent flyers' like Harris back on the streets to terrorize law abiding citizens.