CHICAGO, IL- Another weekend of criminal violence rocked the streets of Lori Lightfoot's Chicago, with ABC Chicago 7 reporting 41 people shot, seven fatally, between Friday afternoon and Sunday evening. The victims ranged from age 16 to 65.
Among the numerous incidents that terrorized residents throughout the entire city were a drive-by shooting that left two men dead and two others wounded.
ABC 7 reported that a group of men were standing on a sidewalk when someone driving a grey vehicle opened fire at them at about 7:30 p.m. Saturday on the South Side.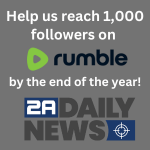 A 42-year-old man, who was shot multiple times, was taken to the University of Chicago Medical Center where he was pronounced dead while a 48-year-old man, who also suffered multiple gunshot wounds, was taken to Mount Sinai Hospital where he was pronounced dead.
Two others, another 48-year-old man and a 24-year-old man, also suffered multiple gunshot wounds were transported to local hospitals.
Multiple Drive-By Shootings
But that wasn't the only drive-by shooting in Lori Lightfoot's gun-controlled Windy City!
Three men standing on a sidewalk were shot by someone in a passing vehicle at about 3:35 p.m. Saturday on the Near West Side.
A 30-year-old man, who was wounded in the buttocks, was taken to West Suburban Hospital in good condition, while a 24-year-old man was in critical condition at Stroger Hospital, suffering from a wound to the shoulder. A 43-year-old man, who was also taken to Stroger Hospital, was reported by ABC 7/ Chicago Sun-Times as being in good condition with a bullet wound in the arm.
Cops Are Fair Game?
Not even police officers safe from Chicago's gun-wielding thugs this past weekend! After responding to a call regarding a man with a gun at about 5:40 p.m. Friday on the Far South Side, officers arrived only to have the suspect point his gun at them! Police responded by critically wounding him.
The man was taken to Christ Medical Center in Oak Lawn where he was in critical condition.
OUR TAKE
It is the same story, time and again. Radical-left politicians say they want to stop gun violence by passing gun control — but then ignore how terribly their plan works in reality.
The results are obvious: weekend after weekend, year after year of violent criminals preying on unarmed, law-abiding citizens.
Now, more than ever, gun-owners need to stand up and defend their gun rights from the aggressive anti-gun left.