FLINT TOWNSHIP, Mich. – A 31-year-old man is dead after learning the hard way that an armed home owner is not an easy target — no matter how old or frail he thought they would be!
Police in Flint have reported that the alleged home invader was killed by the 80-year-old man whose home he was trying to rob in a Thursday evening incident.
ABC 12 News reported that the unidentified 31-year-old man allegedly broke into a residence at around 8:45 p.m. on Thursday in the 1000 block of West Bristol Road, where he was confronted by the unidentified 80-year-old male homeowner who fired at least one shot and killed the would-be robber.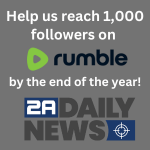 Michigan Live reported that the 80-year-old was released pending further investigation.
OUR TAKE
We hope that after this red-blooded American was cleared by the police, he immediately went to buy a cold beer to celebrate having the guts and fire in his belly to defend himself again that violent scum! It was a battle for survival and the odds were not in his favor but he came out on top! Well done, sir!

If he had been unarmed, this could very likely have been his obituary but he was ready and willing to FIGHT BACK — and it very likely saved his life!