WASHINGTON- The Biden Administration intends to use last weekend's mass shooting in Buffalo to gain momentum in the Senate to approve the nomination of former federal prosecutor Steve Dettelbach to the head of the Bureau of Alcohol, Tobacco, Firearms, and Explosives, Politico reported on Monday.
The administration hopes to highlight the Cleveland-based Dettelbach's record of overseeing prosecutions of racially motivated cases.
"It's our hope that the Senate swiftly confirms Steve Dettelbach to lead ATF — particularly given his track record of prosecuting hate crimes — so Dettelbach can help the Bureau redouble their work fighting domestic terrorism and gun crime," White House spokesperson Mike Gwin told Politico on Monday.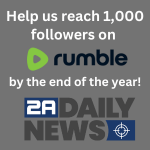 Politico noted that the stakes are high for an embattled administration desperately seeing a win.
An NBC News poll published earlier this week finds President Biden's job approval rating at an abysmal 39 percent.
If Dettelbach is able to secure 50 votes in the Senate, it would represent a significant victory for Biden," Politico reported. "The president has been stymied in his efforts to get Congress to expand background checks, renew a ban on assault weapons and high-capacity magazines, and approve billions in new funding he proposed to address violent crime."
Dettelbach is the latest Biden nominee for ATF head, which has not had a permanent director since 2015. Initially, the president nominated David Chipman, a career ATF official who, according to CNN, also served as an advisor to the gun-control groups Everytown for Gun Safety and Giffords. The president withdrew Chipman's nomination after concluding that the nomination did not have enough votes in the Senate to pass.
In a stammering April 11th Rose Garden address, in which he repeatedly incorrectly referred to the bureau's abbreviation as "AFT," the president introduced Dettelbach as the administration's new nominee.
"Today, to lead and support the dedicated men and women of the AFT (ATF), I am proud to nominate Steve Del- — Dettelbach — excuse me, I mispronounced your name — I just — as Director of Bureau of Al- — Bureau of Alcohol, Tobacco, Firearms and Explosives," Biden said, according to a White House.gov transcript.
According to The Hill, Dettelbach was a classmate of President Barack Obama at Harvard Law School.
Dettelbach, who Obama appointed as U.S. Attorney of the Northern District of Ohio in July 2009, was endorsed by the Everytown for Gun Safety Action Fund during his unsuccessful run for Attorney General in the Buckeye State in 2018.
"During his campaign, Dettelbach supported an assault-weapons ban, universal background checks and restricting people from owning guns who have a record of serious mental illness," Cleveland.com reported.
He lost to Republican Dave Yost in the general election.
During his career, he has served as legal counsel to liberal Vermont Senator Patrick Leahy and on advisory boards to both Loretta Lynch and Eric Holder, two Attorney Generals named by President Obama.
Gun Control Record
Of particular concern to gun owners is Dettelbach's support for a total ban on the sale of hundreds of firearms, including AR-15s, and his support for universal background checks.
Pro-gun groups have long pointed out that universal background checks would by default create a gigantic federal database which could contain a registry of every firearm and firearm owner. This could lay the necessary groundwork for eventual gun confiscation.
Dettelbach has also previously supported adding gun owners with a variety of misdemeanor convictions to the "prohibited persons" list on the National Instant Background Check System, as well.
Cleveland.com also reported that Dettelbach always harbored higher political ambitions, pointing to his tendency to put out more press releases than his predecessors and thus raising the visibility of his office.
"I think that Steve has what I would call 'Potomac fever,'" former FBI agent and defense attorney John McCaffrey told Cleveland.com. "He very much wants to be involved in public service at the highest level, and he's capable of doing it. That's not a negative; that's just a reality. He's always had political ambitions."
OUR TAKE
Dettelbach is a recycled David Chipman, and he fits in perfectly with the administration's plan to destory the 2nd Amendment by a 'death by a thousand cuts.'
But Dettelbach is very dangerous, politically, in that he projects 'powerless paper pusher' in front of a camera — while holding aggressive goals for gun control.
While some gun owners might find his less-impressive demeanor to be underwhelming and thus view him as less of a threat, they should also keep in mind that in of a Senate confirmation hearing, Dettelbach would also play better than Chipman.
Dettelbach oozes a consummate, methodical bureaucrat. That would sell at a Senate Confirmation hearing better than Chipman's more obnoxious personality. His aura of respectability and harmlessness makes him all the more lethal.
He has already picked up the endorsement of the International Association of Chiefs of Police, an organization that also supports bans on AR-15s, universal background checks, and mandatory waiting periods.
The Biden Administration has shown they have every intention of manipulating tragic events in Buffalo to push Dettelbach's nomination to advance its tyrannical anti-gun agenda.
As we wrote before, the left is counting on the gun owner to be silent in the face of Buffalo. Do not do it for a second. Put pressure on your senators to reject Dettelbach.