ST. LOUIS – At least thirteen people were shot, and five were killed in a weekend of gun-soaked criminal violence that rocked the Gateway to the West as of late Sunday afternoon, KMOV reported.
Among the dead was 39-year-old Melissa Moore, who was shot just before 6 p.m. on Saturday at the Midtown Bar and Grill, located near the intersection of St. Louis Avenue and Vandeventer Avenue.
Authorities told KMOV that they found more at the entrance to the bar suffering from puncture wounds. She was pronounced dead at the scene. A 55-year-old man was also shot and wounded at the scene. He was taken to a local hospital.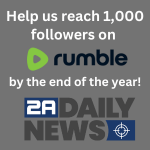 A young girl, just sixteen-year-old was gunned down just before 4 p.m. on Saturday near Minnesota Avenue and Fillmore Street in the Carondelet neighborhood. Police told KMOV that Kyierah Jeffries was shot in the abdomen and was taken to a hospital, where she later died.
But the violence continued…
A man who was believed to have been in his 60s was killed in a double shooting that occurred before 2 p.m. Sunday in the 5700 block of Roosevelt Place in North St. Louis, the St. Louis Post-Dispatch reported.
A woman was wounded in the leg during the same altercation. She was taken to a local hospital where her condition was not known.
Neighbors told the Post-Dispatch that the shootings began when a fight started in the street resulting in the man being hit by a stray bullet while on the porch of the house where he lived with his elderly mother.
Neighbors, who described the man as quiet and friendly, were alarmed.
We elderly people sit inside our homes, afraid to come outside because of things like this," Terrence Wolfe told the Post-Dispatch. "Young people, they shoot and run over stupid stuff. But bullets don't have eyes. They can hit anyone or anything. Now he's gone. For nothing."
OUR TAKE
Radical leftists, in their hatred of our God-given Second Amendment rights, are eager to take advantage of mass shootings like the one in Buffalo, NY this weekend.
They happily twist a tragedy into a political tool they can use to beat law-abiding citizens.
Yet, their visions keep getting dashed by reality in leftist-controlled cities like St. Louis, Chicago, and Philadelphia. The truth is that their policies result in a criminal paradise where hoodlums run the street, teenagers lose their lives, and law-abiding citizens are afraid to go outside in their neighborhoods.
You will hear much about the Buffalo shooter and his victims in the days to come in the leftist-controlled corporate media. But they will not be talking to people like Terrence Wolf, a man who lives in the nightmare that leftist policies have created.