WEST LONG BRANCH, NJ- A Monmouth University Poll released on Thursday revealed that fewer Americans consider gun control a significant voting issue than in the previous midterm elections.
The poll found that only nine percent of participants considered gun control the most important issue when voting for members of Congress. That's down from the 13 percent of participants who said it was their most important issue in August 2018.
"When asked to choose the single most important issue from the six policy areas included in the poll, economic policy (26%) and abortion (25%) are the top concerns, followed by health care (16%) and immigration (14%)," the poll authors said. "Fewer than 1 in 10 select either gun control (9%) or tax policy (8%) as their most important issue."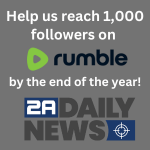 Breaking down the numbers further, the poll revealed that only 32 percent of respondents claimed that gun control was an "extremely important" issue.
That is down five percentage points from August 2018, when 37 percent of people polled thought the issue was 'extremely important.' Those who considered gun control a "very important" issue fell from 38 percent in August 2018 to 34 percent this month.
Responding to the question of how important it was for a Congressional candidate to share their views on gun control, 35 percent of Democrats, 33 percent of Republicans, and 30 percent of Independents said, "extremely important."
Meanwhile, 40 percent of Democrats, 34 percent of Republicans, and 31 percent of Independents responded that it was "very important" for a candidate for Congress to share their opinion on gun control.
The Monmouth University Poll surveyed 807 adults by telephone between May 5th and May 9th and has a +/- 3.5 percentage points margin. According to the poll's demographics, 30 percent of respondents self-reported as Republican, 27 percent as Democrat, and 43 percent as Independent.
OUR TAKE
This drop in the importance of gun control among prospective voters in the upcoming midterms is simple: more Americans are interested in protecting themselves and their families.
The average American watched as the government sat back and ignored the BLM, and ANTIFA riots — if they didn't outright praise the violent criminals involved.
Americans watched as elected officials like AOC and others called for defunding police — and subsequently, they watched once-great cities like Chicago descend further into modern-day war zones.
Next, look at some of the things we've reported to you about in the last couple of weeks- a gigantic spike in requests for license-to-carry in the Blue stronghold of Philadelphia, the increased pressure on state governors and legislatures to pass Constitutional Carry laws, and more and more instances of law-abiding folks rightfully using their 2nd Amendment rights to protect themselves and the people they love.
Gun control isn't selling like it used to because more Americans are viewing the right to bear arms not just as a right but as a necessity.
Radical anti-gun leftists may view the failure of their propaganda with disdain. But they can't ignore that their mantra of "keeping people safe by stripping away their gun rights" is becoming a 'dog that won't hunt' at the ballot box anymore.