WASHINGTON- In their ongoing efforts to push legislation restricting the Second Amendment, House Democrats have introduced bills under the Protecting Our Kids Act to the House Judiciary Committee.
Committee hearings on the legislation are expected to begin today, June 2nd, according to NBC 4 New York.
"House Judiciary Committee Chair Jerry Nadler (D-NY) has called committee lawmakers back from a break to mark up gun legislation that combines eight separate bills," CNBC reported.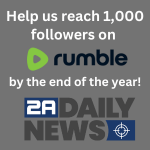 According to a spokesman, Nadler intends to bring a suite of new gun safety laws to the House floor 'as soon as possible' in light of shootings in Texas and New York state.
Eight bills make up the Protecting Our Kids Act. According to CNBC, one of them, the Raise the Age Act, will raise the age of purchasing semiautomatic weapons from 18 to 21.
The Daily Montanan reported that two Republicans, Rep. Adam Kinzinger of Illinois and Rep. Brian Fitzpatrick of Pennsylvania, are co-sponsors of the bill with Rep. Anthony Brown (D-MD).
According to CNBC, tax incentives would be provided to families to provide secure storage for their weapons under Ethan's Law, which introduces new government requirements for storing guns at home.
Long a target of the Biden Administration, ghost guns would be dealt with in the Untraceable Firearms Act, which would require that all firearms would need to be traceable. The Daily Montanan reported that repeated violations of this law would result in upwards of five years in prison.
CNBC also reported that the Keep Americans Safe Act would "outlaw the import, sale, manufacture, transfer or possession of a large-capacity magazine." These include a "magazine, belt, drum, feed strip, or similar device that has a capacity of more than 10 rounds of ammunition," the Daily Montanan reported.
According to the Daily Montanan, bump stocks would be classified as machine guns that would be required to be registered under the National Firearms Act, which would also make it illegal to sell, manufacture, or process them.
Nadler's move in calling committees to reconvene early signaled to CNBC that House Leadership wishes to move quickly on votes while it believes Democrats have momentum on the gun-control issue.
With Republicans nearly in lockstep in their opposition, the House action will mostly be symbolic, serving to put lawmakers on record about gun control ahead of this year's elections," NBC 4 New York reported. "The Senate is taking a different course, with a bipartisan group striving toward a compromise on gun safety legislation that can win enough GOP support to become law.
Thanks to redistricting, Nadler, a 30-year veteran of the House, is facing off against fellow representative Carolyn Maloney, also a three-decade veteran and chair of the House Subcommittee on Oversight and Reform, in the 12th District in the New York Primaries on June 28th.
OUR TAKE:
With Democrats and RINO Republicans banding together to pass legislation that guts your Second Amendment Rights, gun owners must HOLD THE LINE until the November congressional midterms.
If you read the details of the deceptively-named legislation above, you don't need to be told how dangerous and destructive these bills are to our gun rights.
This is a time to get involved! You can help by taking thirty seconds to email your legislators using the form provided by the American Firearms Association below: