WALNUT, Calif.- A homeowner emerged unharmed and a robber is dead after a shootout during a home invasion at about 4 a.m. Saturday in the 20000 block of East Country Hollow Drive, according to a report from KTLA.
"Investigators say a 27-year-old man and 26-year-old woman heard footsteps inside their home. As the victims investigated the sound, the homeowner confronted the armed burglar and a shooting occurred," Fox 11 Los Angeles reported.
The unidentified suspect, whom the homeowner confronted, also had a gun and both exchanged fire, KTLA reported.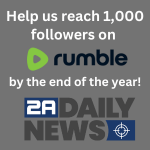 He was shot in the upper torso and pronounced dead at the scene, according to Fox 11 Los Angeles.
Neither the man nor the woman was injured, according to CBS Los Angeles.
The Los Angeles County Sheriff's Department told Fox 11 Los Angeles that a second suspect in the home invasion fled the scene. No description of him is available and it was unclear if he fled on foot or by vehicle.
Walnut is located just over 25 miles east of Los Angeles.
OUR TAKE
Another happy, albeit scary, ending thanks to a good guy with a gun.
The latest Democratic assault on the Second Amendment in the form of the Federal Firearms Licensing Act — a bill introduced by Cory Booker (D, NJ) and a cabal of anti-American Senators — would have us see far fewer stories with happy endings like this one.
If radicals like Booker and their friends in Congress and the Biden Administration get their way, only the bad guys would have guns — since criminals ignore gun laws anyway.
Don't let this happen! We reached out to the American Firearms Association to ask them what gun owners could do to speak out against this bill. They supplied us with this this petition where you can sign to tell your lawmakers to say "NO!" to Booker's nuclear gun control bill today. Take a quick minute to fill it out and then share it with your friends.